#AnambraDecides: Bomb Scare In Onitsha As Anambra Voters Elect Governor Today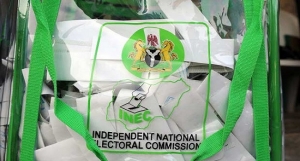 Two improvised explosive devices (IEDs) have reportedly been discovered in Onitsha, Anambra state.
The IEDs were said to have been found on Friday near a police station in Onitsha north local government area.
The development is coming a few hours to the commencement of the state's governorship election.
"I was at the main market with my brother when we heard bombs were discovered in GRA, near the police station," he said.- Resident say.
"The news caused tension with people rushing to pack their things and leave the market. But we later heard they (the IEDs) had been removed. Let's hope this election doesn't turn into something else."
The IEDs were said to be evacuated by the officers in the anti-bomb squad of the police.
The Nigeria Union of Journalists, Anambra State Council, in an emergency congress, also expressed fear that something untoward might befall the state in the poll.
It's communiqué, read partly, "That the Council views with concern the unusually heavy presence of security operatives in the state in the build-up to the election, noting that such could lead to unnecessary tension and may jeopardise peaceful conduct of the poll and possibly dissuade voters from coming out to exercise their franchise."
The tension in the state was further exacerbated by the pro-secessionist group, Indigenous People of Biafra, which issued what seemed to be a fresh threat and prediction that the Anambra governorship election would be bloody.
IPOB had warned the people of the state to stay indoors to avoid being victims of bomb blast that could occur during the election.
This is just as the Deputy Inspector General of Police in charge of Operations, Mr. Joshak Habila, dismissed the threat by IPOB, insisting that the voters should come out and exercise their franchise without fear.
A statement by the proscribed group signed by its spokesman, Emma Powerful, indicated that all might not be well with the exercise.
Powerful said IPOB had uncovered a plot by Nigerian security agencies to link it to series of bomb blasts that would occur during Saturday's governorship election in the state.
The spokesman for the pro-Biafra group claimed that the security agencies, particularly the army, police and the Department of State Services, had planted explosive devices at strategic places in the state, waiting to set them off during the election.