"Northern Nigeria Muslim Leaders 'Hate' A Situation Where Women Lead" – Buhari Ends Female Cadets Admission In Army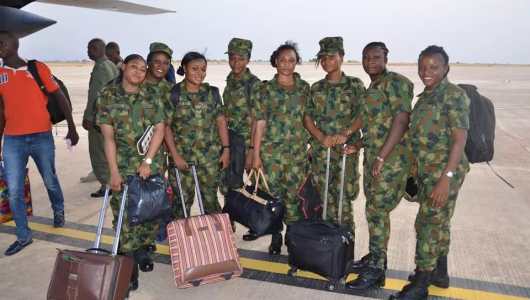 Estimated Reading Time: <1
The armed forces council has reportedly recommended an end to the admission of female cadets into the combatant course of the Nigerian Defence Academy (NDA).
According to PUNCH, Northern Muslim leaders were said to be wary of a situation where a woman would someday lead the army.
The move to end the admission of female cadets is said to be recommendation 19 of harmonised terms and conditions of service officers, which was last week ratified by President Muhammadu Buhari.
"Phase out the training of female regular combatant cadets," recommendation 19 reportedly read.
The report quotes a general as saying: "It is only the regular combatant commission that can give an officer the opportunity to aspire to head any of the services or rise to become the chief of defence staff, while the others have limited career path. If the military is able to scrap this programme, women will never be able to head any of the arms of the Nigerian military.
"The northern Muslim leaders want to prevent a situation where one day, a woman will lead the army and give orders to men.
"When we started the training of female cadets in 2011, we never thought it would be successful. When the first set of women cadets graduated from the academy last year, women won three awards, including the best award in the navy category.
"A female cadet, C. Lord-Mallam, won the Navy Gold award which is the highest in the navy category. The Army Silver award, which is the second highest in the army, went to a female cadet, K. O Dayo-Karim. The Air Force Silver award was also won by a female cadet, O. S Ijelu.
"However, some northern conservatives were not happy about it because most of the female cadets are either Christians from the South and northern minority groups or Muslims from the South and Middle Belt.
"Dissatisfied with how things are turning out, the northern Muslim leaders lobbied the military authorities to stop the programme for women."
The Goodluck Jonathan administration had in 2010 ordered the military to allow females who aspired to become combatant officers into the NDA.