Court Orders EFCC To Pay Nyako N12.5m Within 30 Days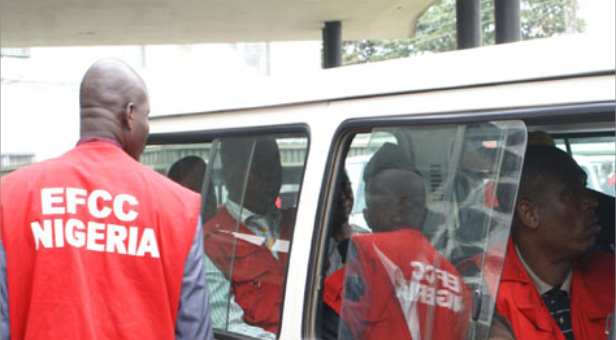 Estimated Reading Time: <1
The Federal High Court, Abuja, has ordered the Economic and Financial Crimes Commission (EFCC) to deposit N12.5 million imposed on it for infringing on the fundamental human rights of Abdulaziz Nyako.
Justice Gabriel Kolawale, who made the order on Tuesday in Abuja, said the fine should be deposited with the Chief Registrar of the court as a fine for arresting and detaining the senator for three days.
It was also imposed on the agency for freezing all of Nyako's bank accounts for over two years without a court order, or charging him to court.
The fine was part of the judgment delivered by the court on June 22, 2016 in favour of Mr. Nyako, who is a serving senator and son of former Adamawa governor, Murtala Nyako.
Ruling on an application by the EFCC for stay of execution of the judgment, Justice Kolawale struck out the application saying it lacked merit adding that no cogent reason was placed before the court to enable it use its discretion in favour of the anti-graft agency and stay the judgment.
He disagreed with the argument of the EFCC that it would not be able to function if it paid the fine, adding that the argument was based on sentiments and not on law.
The judge agreed with Nyako that the motion of appeal said to have been filed by the EFCC was a ploy to deny him the fruit of his success in his court case against the agency.
"More than a year after the judgment was entered against EFCC, the compilation of records by the agency for transmission to the Court of Appeal has not been done and the period allowed by law has expired," he said.
Justice Kolawale also agreed with the senator that his arrest and the freezing of his accounts for over two years was an abuse of his fundamental rights as a serving senator and a responsible citizen of the country.
He ordered that the EFCC, should within 30 days, issue a bank draft in the sum of N12.5 million in the name of the Chief Registrar of the Federal High Court or in the alternative, provide a bank guarantee of N12.5 million.
He said that in the event that the EFCC failed to deposit the bank draft within 30 days, the respondents shall have the right to apply for garnishee order nisi which will allow Nyako withdraw directly from EFCC's account with the Central Bank of Nigeria.