Nigerian Workers Did Not Hold Back Their Frustration As The World Marks Workers Day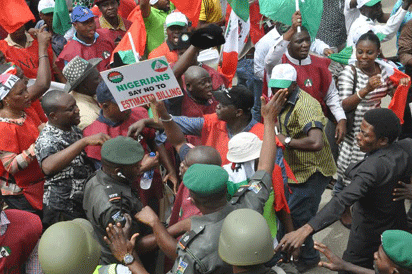 Estimated Reading Time: <1
Angry workers on Monday protested the tough economic conditions in the country, disrupting the rally organised to commemorate the May Day at the Eagle Square, Abuja.
The workers complained about what they described as the insensitivity of the federal government to their plight, describing the absence of President Muhammadu Buhari and Vice-President Yemi Osinbajo at the rally as ample evidence of their disregard for labour.
Their protest forced very important dignitaries, including the Senate President, Dr. Bukola Saraki; Speaker of the House of Representatives, Hon. Yakubu Dogara; Minister of Labour and Productivity, Senator Chris Ngige; and former governor of Edo State, Adams Oshiomhole, to leave the event abruptly.
Many of the workers tells newsmen that while they could understand the absence of Buhari, who was presumed ill, they objected to Osinbajo's preference for honouring an invitation to attend a lecture in Lagos instead of honouring them at the May Day rally.
What was more annoying, they said, was the decision of the Labour minister to ask Ms. Biola Bawa, the acting Permanent Secretary of the ministry, to read his speech.
Speaking on Arise TV, on Monday, Oshiomhole, also a former labour leader, asked the workers to exercise patience, saying the Buhari administration was doing its best to attend to their welfare needs.
The ruling All Progressives Congress (APC), he said, was pro-poor and willing to ensure that the fortunes of the nation's work force changed for good.
He, therefore, pleaded with them to engage rather than confront government, explaining that the economic crises was a direct consequence of the mismanagement of the economy by past governments.