APC Chief, Bisi Akande Says Buhari's Ailing Health Is Taking A Toll On The Country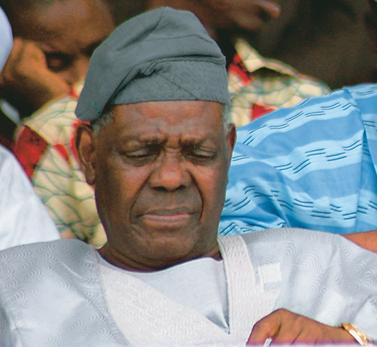 A former National Chairman of the All Progressives Congress (APC), Bisi Akande, has said some people in the corridor of power are feasting on the health condition of President Muhammadu Buhari.
In a statement on Monday, Akande said the president's ailing health is taking a toll on the country.
He expressed fear that the country may be thrown into anarchy if Nigerians did not learn from history.
"These are two great red flag dangers that have the potential of plunging the country into unprecedented chaos and of destabilising the gains of democracy since 1999," Akande said.
"The greatest danger, however, is for political interests at the corridor of power attempting to feast on the health of Mr. President in a dangerous manner that may aggravate the problems between the executive and the National Assembly without realising if, in the end, it could drag the entire country into avoidable doom.
"Let me warn today that those who wish to harvest political gains out of the health of the president are mistaken. This is not Nigeria of 1993.
"We are in a new national and global era of constitutionalism and order. We hope Nigerians have enough patience to learn from history.
"My greatest fear, however, is that the country should not be allowed to slide into anarchy and disorder of a 'monumental proportion'," he said.
Akande, according to TheCable, also spoke about a personal encounter he had with Buhari in December, recalling the trip he and Bola Tinubu, national leader of the APC, made to London to see Buhari.
He said he felt so bad that Buhari could not attend the wedding of his grandson in Kaduna on Saturday.
"I did not see President Buhari at the wedding of his grandson in Kaduna last Saturday. I was sad, and I wept," Akande said.
According to him, "When last we met at the wedding of his daughter in Abuja last December, I complained to him that I was not happy about his stressful looks.
"His reply connoted some allusions to circumstances where an honest man fighting corruption is surrounded mostly by unpatriotic, greedy ruling class. He felt painfully frustrated.
"He assured me he would soon be going on vacation. I then knew that corruption had effectively been fighting back. And I prayed for Nigeria.
"That was why Asiwaju Bola Tinubu and I rushed to meet him in London in February this year when he was sick and could not return as scheduled from his vacation.
"The rest is history, but we must appreciate that his poor health is already taking a toll on the health of Nigeria as a polity."
He urged all Nigerians to pray for the president's recovery, saying it was necessary to prevent Nigeria from being thrown into confusion.
"To avoid the ugly consequences of letting President Buhari's ailments throw Nigeria into confusion, I am urging all Nigerians to begin to pray for his divine healing and perfect recovery," he said.