Kano Hisbah Board Destroys 1,000 Bottles of Beer But Share In The Revenue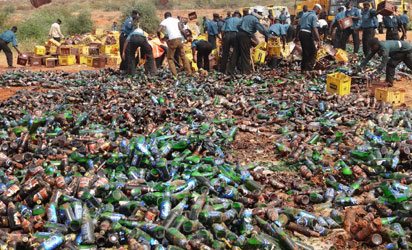 The Kano State Hisbah Board says it destroyed over 1, 000 bottles of assorted beer which it confiscated in 2016.
The Director General of the board, Abba Sufi, disclosed this in an interview with the News Agency of Nigeria on Wednesday in Kano.
He said the products were intercepted by the staff of the board in Dawakin Kudu Local Government Area of the state last year.
"The commodity was destroyed on Tuesday at Dawakin Kudu under the watchful eyes of our staff and other officials of the board," he said.
He said all those arrested in connection with the illegal importation of the products into the state had been charged to court.
According to him, the board has put in place additional stringent measures to check importation of beer and other intoxicants into the state.
"We have taken measures to arrest those who are bent on violating the Sharia which prohibits consumption, carrying, sale or transportation of the commodity in the state," Mr. Sufi said.
He said Hisba operatives in the 44 local government areas of the state would intensify patrol to arrest violators of the law.
He attributed the reduction in sale and importation of the commodity into the state to some of the measures taken by the board in 2016.
"As we enter 2017, we will intensify effort to check the excesses of such recalcitrant persons who violate the Sharia.''
He advised those who are in the habit of bringing the commodity in the state to stop or face the wrath of the law.