Rauf Aregbesola: I've Not Received Salary Since I Became Governor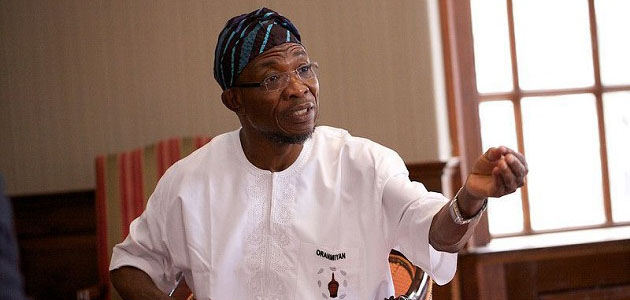 The governor of Osun State, Rauf Aregbesola, says he has not earned salary since he assumed office six years ago.
He said this during the launch of Oodua FM in Ile-Ife on Sunday.
"When people complain about our financial state, I begin to wonder if they think I am spending people's money. Some of you do not know that I have not received any salary since I became governor- of Osun state, why will I take that of others," said Mr. Aregbesola, who became governor in November 2010.
According to the pay package prepared by the Revenue Mobilisation Allocation and Fiscal Commission and which became effective 2009, a state governor earns a monthly salary of N2.2 million.
He is however entitled to several other perks, including constituency allowance of N4.44 million, hardship allowance N1.11 million, leave allowance N222, 370.00, and newspaper allowance N333,555.75.
Osun State has been in deep financial crisis for a long while and has been unable to pay salaries of workers.
Besides, the governor who began his second term in office in November 2014, has not appointed commissioners.
The poor financial condition of the state has also made it impossible to live up to its obligations to the Ladoke Akintola University, Ogbomosho, which it jointly funds with Oyo State.
Mr. Aregbesola said the economic crisis was not only affecting Osun state but also other states, noting "there is no free money anywhere."
He explained that he refused to appoint commissioners because of the state's poor financial condition.
"How will I have commissioners when we have no money?" he asked.
"The minority leader of Osun state House of Assembly wrote a post on Facebook complaining that I have not paid them. We don't have the money, even the minority leader does not have a car."
The governor advised the owner of the radio station, Rotimi Makinde, to use it for the development of the state, rather than for politics.
Mr. Aregbesola criticized the Nigerian Broadcasting Corporation for allegedly performing below expectation.
According to him, "Nigerian Broadcasting Corporation has set standards but they just do things anyhow. There was a time that Osun state was almost torn apart through the media but Nigerian Broadcasting Corporation refused to act."