Gambia's Jammeh Receptive To Mediators – Buhari Says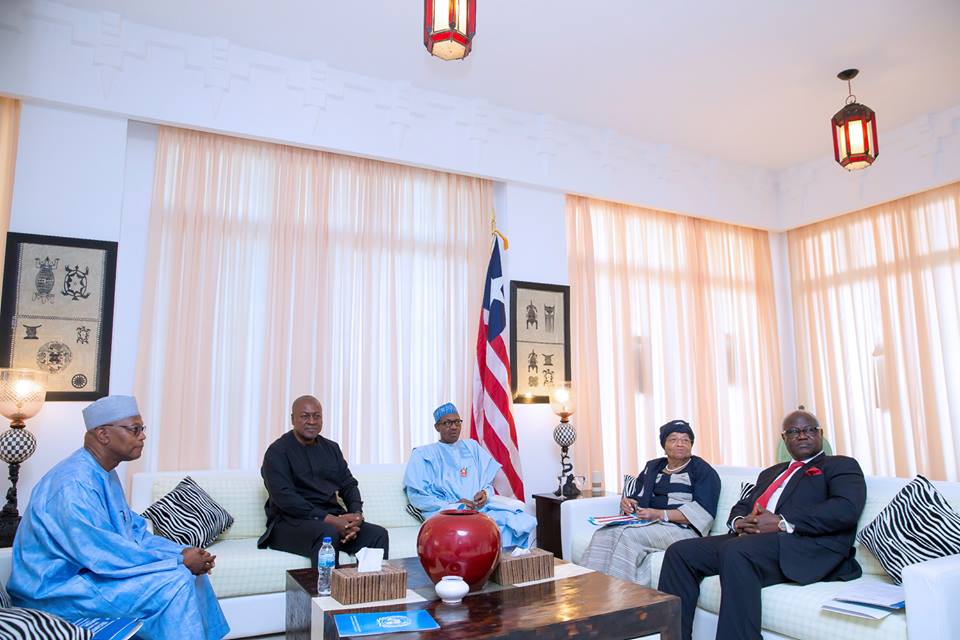 President Muhammadu Buhari said on Tuesday that Gambia's President Yahya Jammeh was receptive to a delegation of West African leaders who visited Gambia to urge the long-ruling leader to step aside following a poll defeat.
Asked if Jammeh had been receptive, he told reporters shortly after the meeting: "Yes, very much so."
Earlier on Tuesday, Gambia's security forces entered the building of the Independent Electoral Commission, instructed its chairman to leave and have since barred other employees from entering, the chairman, Alieu Momarr Njai, told Reuters.
President Buhari and other West African leaders including, Ellen Johnson-Sirleaf of Liberia, President Ernest Bai Koroma of Sierra-Leone and out-going President of Ghana, John Mahama met with Jammeh who lost the presidential election penultimate week.
A statement by the presidential spokesman, Mr Femi Adesina, said Buhari and the other leaders also met the president-elect of Gambia, Adama Barrow.
President Jammeh had earlier conceded defeat in the election, after a 22-year rule, but recanted a week later, asking for fresh polls to be conducted by a "God-fearing and independent electoral commission."
A senior official of regional bloc Ecowas, Marcel de Souza, would not rule out sending in troops. "We have done it in the past," he told Radio France Internationale.
"We currently have troops in Guinea-Bissau with the Ecomib mission. We have had troops in Mali. And therefore it is a possible solution."
Jammeh's ruling APRC party filed a petition on Tuesday with the Supreme Court, asking it to annul the election results.
The president had questioned the validity of the count after the electoral commission changed some results, even though it insists the outcome was not affected.