"I Am Here Because I Want Justice" – How Atiku's Wife, Titi Was 'Defrauded' N918 Million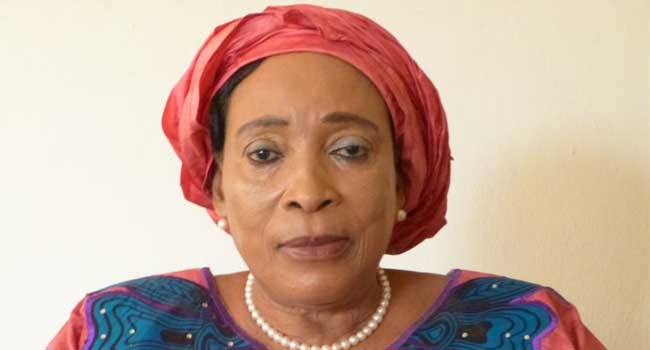 Estimated Reading Time: <1
The wife of a former Nigerian vice president, Atiku Abubakar, on Friday told a Lagos court how a business partner defrauded her of N918 million.
Titi Abubakar, who testified before Justice Oluwatoyin Ipaye, said one Nsikakabasi Akpan-Jacobs, identified as a pastor, sold a property belonging to her company and used the proceeds to fund his governorship ambition in Akwa Ibom State.
"I am here because I want Justice," Mrs. Abubakar told the court.
"All my investment and even profit is gone. I want this to serve as a deterrence to other fraudsters that they can't defraud people and not face justice."
Akpan Jacobs; Abdulmalik Ibrahim, a lawyer; and Dana Motors were arraigned by the Economic and Financial Crimes Commission on a 15 count of conspiracy, stealing and fraudulent conversion of properties belong to THA Shipping Maritime Services Ltd.
They pleaded not guilty to the charges.
The trio are accused of conspiracy and stealing of N918 million, proceeds of the sale of a property situated at Plot C63A, Amuwo Odofin Commercial Layout, along Oshodi Apapa Expressway, belonging to Tha Maritime and Shipping Services Limited.
The company, formed in 2000, had 49 per cent shares belonging to Mrs. Abubakar, 25 per cent to Mr. Akpan-Jacobs, and 25 percent to one Fred Holmes.
Mr. Akpan-Jacobs, who is also the company's managing director, allegedly conspired with the secretary to alter the share arrangements at the Corporate Affairs Commission. He allegedly forged a company board resolution re-distributing the shares ownership giving himself 70 per cent , 15 per cent to Mrs. Abubakar, and 15 per cent to Mr. Holmes.
With the shares re-distribution, Mr. Akpan-Jacobs then allegedly proceeded to assume full ownership of THAShipping and subsequently sold a property worth N918m belonging to Dana Motors Nigeria Ltd.
In 2014, the court had issued a bench warrant for Mr. Akpan-Jacobs arrest after the 46 year old repeatedly failed to appear for trial. He also failed to produce medical evidence to back his claims that he was ill.
Part of the charge against the defendant reads, "That ?Nsikakabasi Akpan Jacobs and Abdulmalik Ibrahim as the Managing Director and Company Secretary on about the 10th day of August 2008 in Lagos within Ikeja judicial division with intent to defraud stole and converted to your own personal use the sum of N918,000,000.00 being proceeds sale of the property and appurtenances situated at plot C63 A Amuwo Odofin Commercial Layout along Oshodi-Apapa Expressway, Lagos, belonging to Tha shipping and Maritime Service limited entrusted with you as the Managing Director.
?"Nsikakabasi Akpan Jacobs and Abdulmalik Ibrahim? on about the 1st day July 2002 in Lagos within Ikeja judicial Division with intent to defraud forged a Memorandum and Article of Association of Tha Shipping and Maritime Service Limited, dated the 1st day of July 2002 purporting the Signatures therein to have been signed by Florence Doregos and Fred Holmes."
According to the EFCC, the offences contravene Sections 390, 467,468 and 516 of the Criminal Code Laws of Lagos State 2003.
The Commission said Dana Motors contravened Section 18(1) of the EFCC Act of 2004, when it fraudulently acquired the property from the first and second defendants.