Defence Chief Launches New Lists of Wanted Boko Haram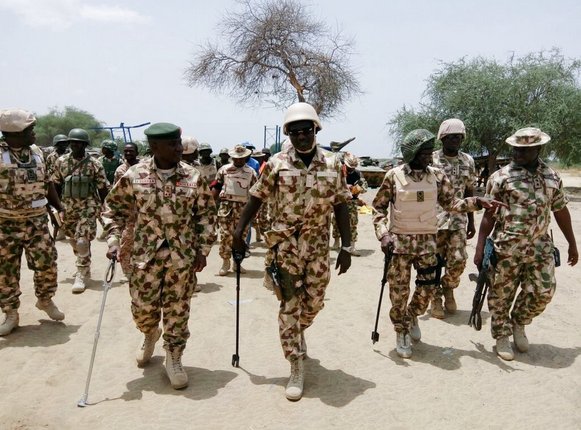 The Chief of Defence Staff, Gen Abayomi Gabriel Olonishakin has released a banner containing photographs and names of 55 Boko Haram wanted for various attacks and terror activities in the northeast where the military currently prosecute war against the insurgents.
"I urged all to facilitate in tracking them down for the good and development of the country," the defence chief said while releasing the banner at a brief event at the headquarters of Operation Lafiya Dole in Maimalari Contonement of the Nigerian Army Maiduguri.
"With this launching of additional list of wanted terrorists, it is hoped that the public will collaborate to identify the wanted Boko Haram wherever they are," he added.
He however urged Boko Haram who wish to surrender their arms and embrace peace to do so in time so as to benefit from the military Operation Save Corridors programme for repentant Boko Haram insurgents.
Chief of Army Staff, Lt. Gen Tukur Buratai said in an opening remark that the army first published a wanted lists of Boko Haram late 2015, adding that it released the second later. He said the fresh lists which contained the name and photograph of Abubakar Shekau, Boko Haram leader, was the third list released to the public.
He said the military published the list for the purpose of emphasy, urging the people to provide useful information regarding the Boko Haram men. He promised that such information will be treated with secresy.
Speaking on the war against insurgency, he insisted Boko Haram has been defeated and advised people not to doubt the claim. "It is very clear that Boko Haram has been defeated but to insist otherwise is to encourage the terrorists to evolve, to get them to feel they are around. We know some of the insurgents are still but their end is near," he said.