Wole Soyinka Says Those Calling On Him To Tear His Green Card "Are Ignorant" And Urged Them To Go To School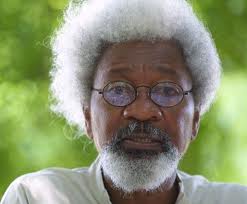 Estimated Reading Time: <1
Professor Wole Soyinka has lashed out at Nigerian trolls on the internet who have asked him to fulfil his vow to rip his American Green Card if Donald Trump is elected president.
The Nobel Laureate had said in Oxford, England that if Trump won the US election, he would tear his Green Card and pack-up. Following the victory of Trump at the polls on November 8, Nigerians took to the internet asking Soyinka to fulfil his promise and rip his Green Card into shreds.
Soyinka in an article described those calling him to tear his Green Card as ignorant as there was no way the card could be literally shredded with the hand.
He insisted that he would leave the US as promised by questioned why many were interested in his decision as he had not called them to do same.
The Nobel Laureate listed a number a countries he has issued "red card" in the past and had stopped visiting them without causing a lot of buzz.
He said: "It is now some twelve to fifteen years since I issued a Red Card to Australia, unannounced. That Red Card subsists till today. The occasion was a conference of PEN International, and I had made the usual visa application. When the forms arrived, I found the requirements for applicants over 70 years (I think) so obnoxious, intrusive, and degrading that I refused to fill them. Negotiations with the Australian government by Australian PEN led to an exception being made for me. When it was communicated, I wrote back: Absolutely Not. I refused to be the token geriatric. That application document was highly disrespectful of age and I wondered what kind of mentality had crafted it, wondered if the Australians themselves knew what image was being projected in their name. I said to our go-betweens: Not for a moment am I equating myself with Desmond Tutu or Nelson Mandela, but they are older. Does it mean that, if they decide to visit Australia, you would subject them to this form of degradation? "Till today, I have routinely declined any invitation to Australia, a country I had visited years earlier to sumptuous hospitality. I learnt some time ago that the obnoxious requirements have been removed but have not bothered to check. The reason was this follow-up: a journalist heard about my absence from the PEN conference and made enquiries. He interviewed me and I told him the cause. After visiting the Australian embassy for their side of the story, he reported back that the diplomat in charge responded to his questions with the comment that the embassy was too busy with more important matters. did not make a fuss. My position was based on principle but, basically, it was a personal affair between me and Australia. It remains so till today." Soyinka also listed South Africa, Cuba, China and Spain as countries he has boycotted in the past although in some cases, rescinded on the decision for important reasons. He questioned why his decision on US means a lot to some people.
"What is so special about America that an agenda of abandonment creates such hysteria? I am incapable of double standards in these matters. Why do individuals feel threatened? I have never invited anyone to join me in my purely personal odyssey, begun before most of these sniveling upstarts were born. Is it the Green Card that sets America apart? Then perhaps it iis time to repay the compliment with a Red card, as in soccer. I am not aware that the world's oxygen storage tanks are located in the US of A, so that we cannot breathe away from it."
He asked those calling on him to tear his Green Card as ignorant and urged them to go to school. "Let me end with a Red Card to those noisome creatures, the nattering nit-wits of Internet: maybe Trumpland is not as despicable as the Naijaland you impose on our reality from your secure cesspits of anonymity. Go back to school. Your problem is ignorance, ignorance of whatever subject you so readily comment upon. Learn to study your subject before opening up on issues beyond your grasp. Sometimes you make one feel like swapping one green for another, out of embarrassment for occupying the same national space as you."