EFCC Drags Former Prosecutor, Godwin Obla SAN To Court For Giving Judge N5m, Keeps Mum On Amaechi, Onu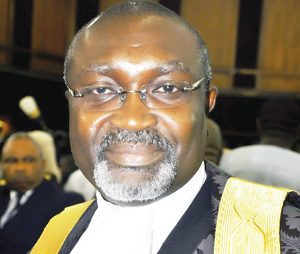 Estimated Reading Time: <1
The Economic and Financial Crimes Commission has commenced moves to remand a Senior Advocate of Nigeria, Mr. Godwin Obla, for allegedly paying N5m into the bank account of a Federal High Court judge, Justice Rita Ofili – Ajumogobia.
Obla, who has been in EFCC detention for the last two days, is also a former EFCC prosecutor.
A source at the EFCC said, "We still need to keep him for interrogation. We will therefore approach a court to get a remand order."
The PUNCH had exclusively reported on Tuesday that Ofili-Ajumogobia was quizzed by the EFCC for allegedly receiving N5m from a senior advocate through her bank account.
On Wednesday, Obla, who used to be an EFCC prosecutor, was identified as the senior advocate who made the mysterious payment and was detained by the EFCC.
However, while the judge told detectives that the N5m was a deposit for a N40m property she sold to Obla in 2015, the senior advocate denied having any transaction with the judge, adding that he was deceived into paying N5m into the account.
A detective at the EFCC said, "Obla arrived at the Lagos office in the afternoon in response to an invitation. Obla is being queried in relation to an allegation of the payment of N5m to a company in which Justice Ofili-Ajumogobia has interests.
"The High Court judge had earlier told operatives during interrogation that the money was a part payment for a property she sold to the lawyer in Abuja for the sum of N40m sometime in 2015.
"But Obla's response contradicted the judge's position. The senior advocate told investigators that the money was meant for buying of building materials (iron rods) for a building he was putting up in Abuja and not for buying of any property.
"Obla explained that in one of his trips to Lagos, he ran into the judge who had been a contemporary in university days and asked her where he could get very good building materials in Lagos.
"He said the judge gave him the name of someone who plies the trade. She provided the company's name and the account number for the transaction. Obla said he paid the money and goods were supplied. When asked the name of the trader, receipt of transaction and delivery evidence of the goods, the learned silk said he could not remember the name of the trader or his location neither was there any receipt or delivery note for the transaction."
The EFCC source, however, revealed that it was able to establish that the company which owned the said account belonged to Ofili-Ajumogobia and her children.
He added, "The account number the N5m was paid into by the senior lawyer has been confirmed earlier to be a company belonging to the female judge and her children. The registered company, not known to be engaged in building materials or any viable business is suspected to be surreptitiously set up for the purpose of warehousing proceeds of gratification."