Igbo Leaders Want Restructuring, They Say The Igbos Made Biggest Sacrifice And Contribution To Nigeria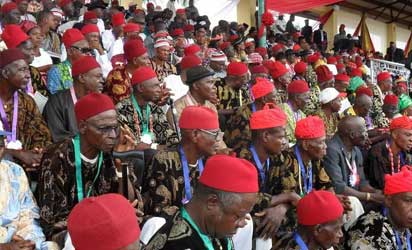 Estimated Reading Time: <1
Igbo leaders have called for the restructuring of the country to allow the Igbo nation that has made the "biggest sacrifice and contribution to the building of modern Nigeria" live and operate freely as equal citizens in the country without discrimination.
Rising from a three-day 2016 World Igbo Summit held at Gregory University, Uturu, Abia State, the leaders strongly condemned the destructive activities of herdsmen and urged governors and the lawmakers in Igbo states to enact laws prohibiting open grazing in Igboland.
In a communiqué issued at the end of the summit, which was attended by prominent Igbo people, including first-class traditional rulers and co-chaired by General Ike Nwachukwu, Dr. Chukwuemeka Ezeife, Col. Joe Achuzia (rtd.), Chief Francis Oji and Chief Emmanuel Iwuanyanwu, they resolved that Ndigbo should take full responsibility for the rebuilding of the economy and development of Igbo states.
The communiqué, read to newsmen by Mazi Sam Ohuabunwa, also called on the Federal Government to immediately release the detained leader of the Indigenous People of Biafra, IPOB, Mazi Nnamdi Kanu, and other prisoners of conscience in line with the rule of law, saying that their agitation does not constitute threat to peace.
Other resolutions reached at the meeting was that governors in Igboland should form a joint commission for the development of their areas; that the 1999 Constitution should be repealed and a new one enacted that will recognise the inalienable rights of each constituent group to self-determination and regional autonomy as enshrined in the 1960 Independence Constitution and 1963 Republican Constitution.
The communiqué reads in part, "Ndigbo, hereby, resolve to take full responsibility for the rebuilding of the Igbo economy and development of Ala-Igbo and hereby shall adopt the digital economy as the organising paradigm and implementation framework for the sustainable development of Ala-Igbo.
"That Igbo political leadership (elected and appointed) must act in the best interest of Ndigbo and be prepared to be held accountable by the people for all their actions and inactions; that in view of the threat by the herdsmen, which constitute present and imminent danger to peace and security in Igboland, the Igbo governors and the states assemblies should immediately legislate against any form of open grazing in Igboland, among others."