"If Fashola Were Igbo, He Would Have Betrayed Tinubu" – Orji Kalu Talks About The Betrayal of Igbos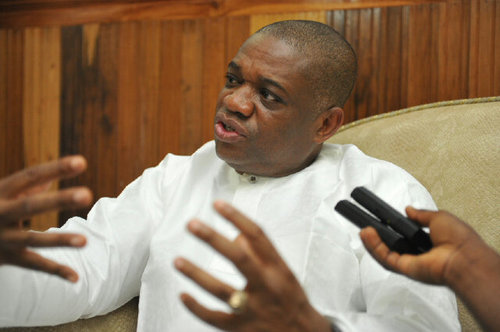 Estimated Reading Time: <1
Orji Uzor Kalu, former governor of Abia state and billionaire businessman, says Igbos are very good in commerce, and in "anything they do" — but not in politics.
In the latest edition of The Interview, Kalu said a number of the elite in the region are not only selfish, but they get their political calculations wrong.
Referring to the fractured relationship between him and Theodore Orji, his successor, Kalu said were Babatunde Fashola, former Lagos state governor an Ibo man, he could have betrayed Bola Tinubu, his predecessor.
"Igbos are their own worst enemies," he said.
"Let me tell you, there were more problems between (Asiwaju Bola) Tinubu and (Babatunde) Fashola than there were between me and TA Orji, but it is the discipline of the Yorubas that kept them at bay.
"Igbos have no discipline in terms of politics. They are very good traders; they're good in anything they do, but they don't understand politics."
According to Azu Ishiekwene, managing director of The Interview, Kalu illustrated his point with a conversation he claimed to have had with President Muhammadu Buhari, who wondered aloud why previous high-profile Igbo appointees had done nothing for the region.
Kalu also spoke on the Biafra agitation and the travails of the leader of the Indigenous People of Biafra IPOB), Nnamdi Kanu, and allegations that while he governed Abia for eight years, his mother ruled.