Return My Late Mother's Necklace Before Divorcing Me, Man Tells Wife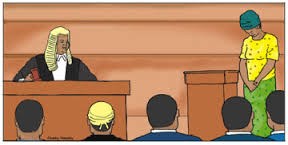 "My wife must return my late mother's gold necklace before she can divorce me,'' a 40-year-old civil servant, Mr Olufemi Ojikutu, has told an Igando Customary Court in Lagos.
He told the court on Wednesday while responding to a suit filed by his wife, Olaide, that if she insisted on divorcing him, she must return his gold because it was his inheritance.
Ojikutu said that his mother gave him and his siblings a gold necklace each to give to their wives when they marry with a condition that the wife must stay with them for life.
"When my mother was about to die, she called me and my three brothers, gave us a gold necklace each, telling us to give it to our wives that will be with us for better for worse till death do us apart.
"She told us the value of each gold– mine was 21 carats valued at N125,000 as at 1995 when she died. "She promised not to forgive anyone who violated her order,'' he said.
The respondent said that he had kept the gold for about 20 years before his wife came to borrow it in 2014 and refused to give him back.
"My wife borrowed my gold necklace but has not returned it; now that she wants to divorce me, she must return the gold necklace, it is not negotiable," Ojikutu said.
He expressed the belief that his wife must have sold the jewellery as she used to sell his clothes. Ojikutu urged the court to grant his wife's wish for dissolution of the marriage, saying he too was no longer in love and only wanted the return of his gold necklace.
The 28-year-old petitioner, who had approached the court to terminate her five-year-old marriage over infidelity, agreed that she collected the gold necklace from her husband.
"'I collected the gold from my husband when I wanted to go for an event but I can't just remember where I kept it,'' Olaide, a clothes trader, told the court. The mother of two accused her husband of infidelity.
"My husband is having an affair; I once stumbled on some pictures on his whatsapp messages where he and his lover were sending their naked pictures to each other," she said. She described her husband as an irresponsible husband and father.
"My husband does not care for me or the children; even during festive periods, he never buys the children clothes or shoes.
" My mother was the one taking care of our children. Whenever I ask him for money, he is always annoyed and often begins keeping malice with me for weeks," she said.
According to her, she left her matrimonial home on Feb. 7, 2015 after her husband changed the key of the house and locked her out.
She begged the court to terminate the five-year-old marriage, saying that she was no longer in love. The president of the court, Mr Adegboyega Omilola, said that the case would be left on sine die stage until the petitioner returns the respondent's gold necklace.
"Since the respondent insisted on collecting back his gold necklace, the judgment will not be read just for peace to reign until the gold necklace is produced. " The case will be on sine-die stage," Omilola ruled.