Chevron, Shell, Others Evacuate 700 Workers, Including Expatriates, IOC's From Oil Platforms In Bayelsa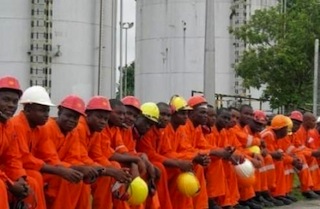 Estimated Reading Time: <1
No fewer than 700 oil workers, including expatriates, are being evacuated by International Oil Companies (IOCs) and their local counterparts from oil and gas platforms in Bayelsa State.
New Telegraph reports that the mass exodus of workers from Bayelsa State began when the militants shifted attacks on installations to the state. The group carried out the first known major at-tack on oil installation in the state at the weekend.
The affected facility belongs to Chevron, which has, for the umpteenth time, been the major victim of attacks by the Niger Delta Avengers (NDA). Bayelsa is the second major state after Delta State that had suffered this fate.
Delta State had been drained of expatriates and oil workers by Shell, Chevron and other companies operating in the state. Expatriates with IOCs in Nigeria demanding that their companies post them out of the country pending the resolution of the incessant attacks on oil and power Chevroninstallations in the Niger Delta.
The expats' demands have heightened fears in the oil firms, which have now conveyed their concerns through the Oil Producers Technical Session (OPTS) to the Minister of State for Petroleum Resources, Dr. Ibe Kachikwu.
The attacks claimed by the Avengers, a new militant group in the Niger Delta, had earlier crashed Nigeria's crude and condensate production by over one million barrels per day. Besides the slide in output, which is a big economic issue for Nigeria, the renewed militancy in the Delta is now seen as a big security issue. The expatriates, have been advised by their countries to stay away from the oil-rich Niger Delta and, if possible, from Nigeria.
"The individual companies have made the expatriates the number one priority in the evacuation of staff from the troubled region based on the belief that they are endangered species, but some expatriates went further with requests to be posted out of the country pending when the new Niger Delta question is answered," the security source at one of the three biggest oil companies in the country told New Telegraph. He added that part of the pleas by the OPTS group to the minister is for the government to protect their investments and other business concerns in the region.
"They also considered possible temporary lock down of major facilities considered security risk until the issue is addressed," he said. The business and security risks in the country, further checks revealed, are now considered by new investors to be getting out of hands.
The prospective investors consider Angola ahead of Nigeria whose business and security risks are heightening, while oil reserves depletion continues to worsen due to drought in investments. Shell, Chevron and Eni had, at different times since the commencement of the renewed attacks in the Niger Delta, suffered impairment on their facilities.