Governor Shettima Says Those Accusing Army Chief of Owning Dubai Properties Are Boko Haram Sympathizers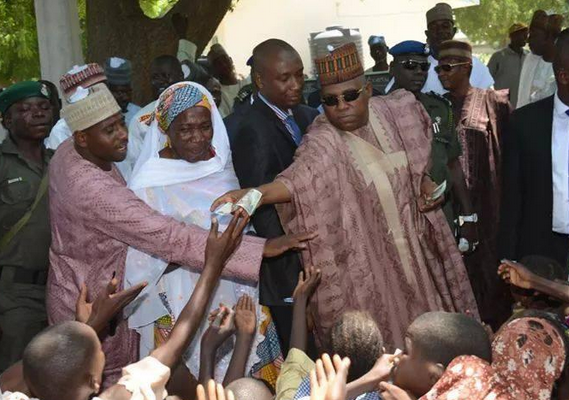 Estimated Reading Time: <1
Borno governor, Kashim Shettima distributes money to victims of Boko Haram in displaced camps
Borno State Governor Kashim Shettima yesterday described the critics of Chief of Army Staff Lt-Gen Tukur Yusuf Buratai ýas Boko Haram members or sympathizers who should be rejected totally.
General Buratai has come under criticism from members of the public and opinion leaders after a news website reporter  that he and his two wives in 2013 paid the sum of 1,498,534.00 AED (N120 million/$419,000) for the first property, Project TFG Marina Hotel Unit 2711. Sale documents indicated that the first property was handed over to the Buratais on January 13, 2013.
Shettima who stated this while flagging off the opening of the Maiduguri – Gamboru/Ngala highway as part of Army Day and Sallah celebrations, said the critics were targeting COAS to distract him because of his successes in fighting against the insurgents in the North East.
This highway was shutdown 27 months ago when attacks on motorists owing to the security challenges had become too widespread.
The road is one of the most commercially viable roads in the country that links Nigeria to the Republic of Chad, Cameroon, Sudan and Central African Republic.
Gov. Shettima said, '' Two years ago, we were under massive attacks every angle. It was impossible for anyone to move out 10 km away from the state capital. Today, Boko Haram are no longer holding any of our territories. It is the efforts of good leadership in the Nigerian Army that brought this result. I think anyone criticizing Lt Gen. TY Buratai is economical with the truth. It is either the persons are Boko Haram members or sympathizers. They want to distract him but we Borno people are surely behind him."
In his speech at the opening of the road, the Chief of Army Staff, Lieutenant General TY Buratai who described the Maiduguri – Gomboru Ngala highway as the live wire of the North East and Nigeria, said, "If you recall, it was this highway that was first cleared by troops. It links to Central and East Africa. Indeed, it is very important and it is the live wire of Nigeria's economy.
Boko Haram knows the importance of this road because they ply it from Sambisa forest to Lake Chad Basin area. I do not want to hear any motorist is attacked on this road. It is our duty to defend and protect our people."