"South-South Governors Are All Cowards For Staying Silent Over Fulani Herdsmen Killings"- Militant Leaders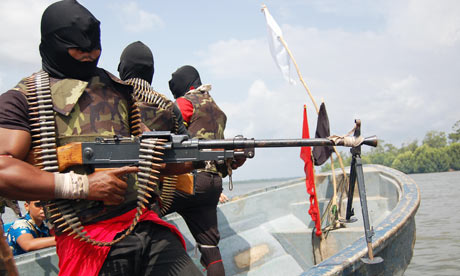 Estimated Reading Time: <1
Militant leaders in the Niger Delta region have described governors in the southern part of the country as cowards for their alleged silence over the unprovoked killings by Fulani herdsmen.
The fighters, who spoke under the auspices of the Concerned Militant Leaders, said in a statement made on Saturday that the governors allowed the onslaught by the herdsmen without fighting back.
They also described the attacks by Fulani herdsmen as an indirect war by the Federal Government against some parts of the southern regions, adding that the governors were not bold enough to confront the Federal Government.
Spokesman of the group, General Ben, expressed worry that the governors in the regions could not make any move to stop the Grazing Bill, maintaining that such a bill was supposed to be for the North and not the Niger Delta.
He said, "The Fulani cattle rearers recently killed our people in Ukpabi Nimbo, in Uzo-Uwani Local Government Area of Enugu State.
"Before then, they had killed our Igbo brethren in Irete, Imo State; they have also murdered our people in Delta State and many other places. Last Thursday, soldiers killed two innocent persons in Aba, Abia State. In all these unwarranted killings, the governors cannot come out and tell the Federal Government that enough is enough. It is shameful that we do not have governors who are bold. They cannot even condemn the Grazing Bill."
The militants threatened that the attacks on oil installations in the country would continue should the Federal Government fail to address some topical issues affecting Nigeria.
The group stated that they were not part of the Federal Government Amnesty Programme and issued a two-week ultimatum to the Fulani herdsmen to leave the Niger Delta region.
They expressed their support for their colleagues for attacking Chevron platform in Abiteye, Warri North Council Area of Delta State.