Nigerian Ex-Air Force Chief, 'Alex Badeh Appointed Officer To Convert N558m To Dollars' Monthly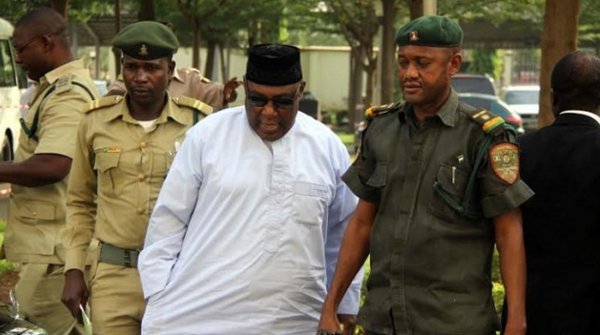 Estimated Reading Time: <1
A former Director of Finance and Account of the Nigerian Air Force, Air Commodore Aliyu Yishau (retd.), told a Federal High Court in Abuja, on Tuesday how the immediate past Chief of Defence Staff, Air Chief Marshal Alex Badeh, diverted N558.2m from the account of the Nigerian Air Force monthly.
Yishau, who is the first prosecution witness in Badeh's ongoing trial on money laundering charges, said Badeh diverted N558.2m from the Salary and Emolument Vote account of the Nigerian Air Force throughout the period he (Badeh) served as the Chief of Air Staff.
Badeh served as the Chief of Air Staff between October 4, 2012 and January 16, 2014, and later served as the Chief of Defence Staff between January 16, 2014 and July 13, 2015, when he retired from the military.
The Economic and Financial Crimes Commission is prosecuting Badeh alongside a firm, Iyalikam Nigeria Limited, on 10 counts of money laundering bordering on alleged fraudulent removal of about N3.97bn from the Nigerian Air Force's account.
The anti-graft agency accused Badeh of using the fund to buy and develop landed assets in Abuja for himself and two sons between January and December 2013.
Yishau, who had earlier been led in evidence by the prosecuting counsel, Mr. Rotimi Jacobs (SAN), had narrated how he routinely handed over the dollar equivalent of the N558.2m to Badeh at his official residence in Abuja and how he helped him (Badeh) in using the money to acquire property in various parts of Abuja.
Under cross-examination by Badeh's lead counsel, Chief Akin Olujinmi (SAN), on Tuesday, Yishau confirmed that the N558.2m was usually converted to dollar every month and the dollar was usually handed over to him for onward transmission to Badeh.
He said, "Mine was to give instructions to Command Finance Officer, who was reporting directly to me. Air Chief Marshal Badeh was not exchanging the money personally, but was given the dollar equivalent.
He said as soon as Badeh took over as the Chief of Air Staff, he (Badeh) appointed somebody who was converting the N558.2m to dollar.
The witness said, "During the period of Umar, it was Group Captain Bukar, who was involved in exchanging the N550.2m into dollars. Group Captain Bukar is still in service. He was removed from the office, where he was involved in exchanging the currency because he was posted on foreign assignment."