Former Senate President David Mark Celebrates Birthday With Agatu Internally Displaced Persons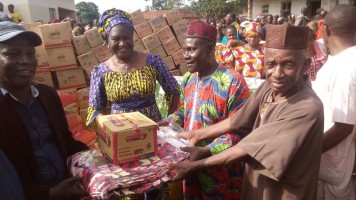 Estimated Reading Time: <1
Former President of the Senate, Senator David Mark yesterday marked his 68th birthday with the Internally Displaced Persons (IDPs) in Agatu local government area of Benue State rendered homeless aftermath of the massacre that left hundreds of people dead.
He was at one of the Internally Displaced Persons ( IDPs) camp in Aila community of Agatu local government area where he distributed relief materials , food stuff, clothes and toiletries to them.
Senator Mark who distributed the relief materials through his wife, Mrs. Helen Mark said:" I identify with you . I share in your pains and frustrations. But don't lose hope. Help will come your way."
He said spending time with the IDPs gave him a sense of fulfilment " because I have devoted the rest of my life to serve God and the less privileged in the society.
"Nothing can be more fulfilling for me on my birthday than bringing joy and relief to the IDPs in Agatu. I will do whatever I can to improve their condition. The situation is not palatable. But we must give them hope."
Senator Mark also urged Corporate Institutions as well as non-governmental organizations (NGOs) to come around to assist the IDPs.
He specifically pleaded with Benue State government to collaborate with the Federal government in order to initiate an action plan towards rebuilding and resettling the survivors of the Agatu massacre.
Mrs. Helen donated several items including thousands of water purifier to arrest rising cases of cholera and other waterborne diseases in the IDP camps. Other items include, but not limited to, Palm oil, bags of rice, assorted drinks, food items, beverages, toiletries, wrappers, among others.
Receiving the relief materials on behalf of the people, District Head of Aila community, Chief Michael Magaji expressed appreciation to Senator Mark for the gesture . Chief Magaji however requested the authorities to increase security presence in the war ravaged communities to enable the survivors return to their ancestral homes .
The call he said has become imperative now to enable people go into the farming season.
Meanwhile, life has started returning to the some communities in Agatu local government. A handful of people were seen in make-shift structures trying to pick their pieces as soldiers parades the communities to guarantee security.