Attahiru Jega Heads Committee On Revival of Education In Sokoto, Kebbi, Zamfara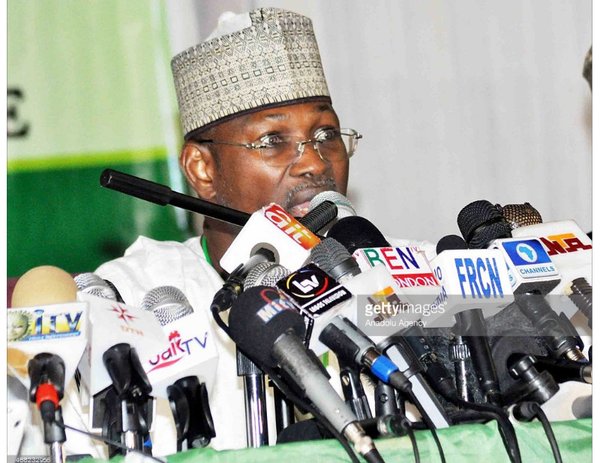 Former chairman of the Independent National Electoral Commission (INEC), has been appointed to head an advisory committee that will revive the educational sector in Sokoto, Kebbi and Zamfara states of North-West Nigeria.
Jega, who heads from Kebbi State, will work with six other professors from the zone and will advise Governors of the three states on how to fix the myriad of problems facing the sector, especially at the tertiary education level.
Presenting a report of the committee Saturday night in Sokoto to Governors Aminu Waziri Tambuwal, Abdulaziz Yari and Abubakar Bagudu of Sokoto, Zamfara and Kebbi respectively, Jega said time has come for all stakeholders in the three states to close rank and collectively face the challenges together.
He said that there was the need to reposition institutions of higher learning in the three states that made up the old Sokoto State to enable them operate according to their core mandates.
Jega among other recommendations stressed the need for improved funding of the institutions, reinvigorated training and promotion of exchange programmes among institutions in the three states.
The committee also advised the three states to establish a joint Education Tax Fund in the mould of the Federal Government-funded TETFUND and revive the former remedial school to be established in one of the states to prepare students for higher studies.
Receiving the report on behalf of his colleagues, Gov Yari of said even though Sokoto had already declared a state of emergency on education in education, both Zamfara and Kebbi will follow suit.
He said that the three Governors would liaise with their various state Houses of Assembly and Commissioners of Justice to review the laws that established the institutions.
"We will pass the recommendations to the Attorney-Generals to look into them, with a view to review these laws. We will also strive to formulate all the requisite policies to make these higher educational institutions function effectively.
"We will also allocate nothing less than 35 per cent of our annual budgets to the education sector," he added.
The five other members of the committee include former Vice Chancellors of Usmanu Danfodiyo University, Sokoto, Prof. Riskuwa Shehu and Prof. Tijjani Bande. The rest are Professors Zayyanu Umar, Lawal Bilbis and Umar Chafe