Zimbabwe's Mugabe Says He's 'Fit' To Remain In Power Until He's 100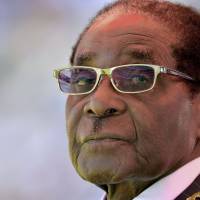 Estimated Reading Time: <1
Zimbabwe's President Robert Mugabe in a two-hour interview with state broadcaster ZBC TV late on Thursday he said his successor has to be chosen democratically.
He stated that his wife will not automatically inherit the role. This came as a warning to opposing members of his Zanu-PF party.
The antagonizing comments from Africa's oldest leader, who is now 92 years old makes clear that he wants to remain president for life.
"Why successor? I am still there. Why do you want a successor? I did not say I was a candidate to retire."
"In a democratic party, you don't want leaders appointed that way to lead the party. They have to be appointed properly by the people, at a gathering of the people, at a congress."
Mugabe made clear that he was not behind his wife Grace's quick rise within Zanu-PF.
"Others say the president wants to leave the throne for his wife. Where have you ever seen that, even in our own culture, where a wife inherits from her husband?" Mugabe said.
He desires to lead his party for five more years, which automatically makes him Zanu-PF presidential candidate for Zimbabwe's 2018 presidential vote.He also told ZBC TV that he will live to 100, he was fit and still engages in daily morning exercises. Zimbabweans are known to follow his health with keen interest. Many fear that the government could be weakened and this would lead to the country destabilized by instability if Mugabe dies.
"I am happy because I am about to reach the age I want. You know the age I want to reach – 100 years. So only eight years remain," Mugabe said.