PDP Alleges Plot By Buhari To Arrests All Its Key Leaders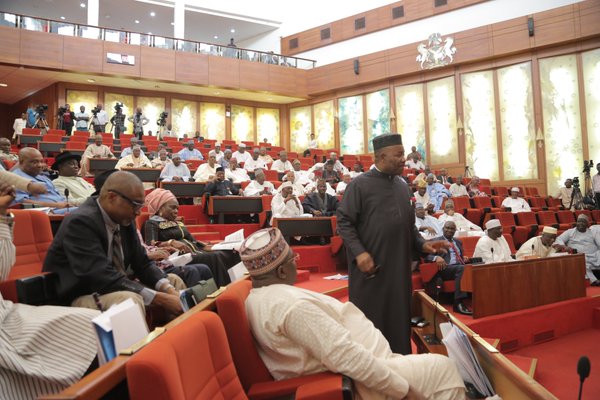 Estimated Reading Time: <1
Following today's arrest of the Deputy National Chairman of the Peoples Democratic Party (PDP), Prince Uche Secondus, by the Economic and Financial Crimes Commission (EFCC), the PDP has decried what it observed as the "oppressive and unfair treatments" against its key leaders by the Federal Government.
PDP Senators: Senate Minority Leader, Sen. Godswill Akpabio and Deputy Senate President, Ike Ekweremadu The party also alerted the nation of plans by the anti-graft body to arrest the Deputy Senate President, Ike Ekweremadu and Senate Minority Leader, Godswill Akpabio, both members of the party.
In a statement issued by the National Legal Adviser of the PDP, Victor Kwon, in Abuja, on Wednesday, the PDP noted that the arrest and detention of Secondus "is part of the grand script by the APC-led Federal Government to decimate the opposition." Also following arrest and detention, the National Publicity Secretary of the party, Chief Olisa Metuh is also currently being prosecuted in connection with $2.1billion arms scam in the Office of the National Security Adviser (ONSA).
The statement added: "We are also aware that plans have been perfected by the Federal Government to arrest and detain the Deputy Senate President, Senator Ike Ekweremadu, Senate Minority Leader, Senator Godswill Akpabio and other leaders of the party on imaginary charges.
"Indeed, intelligence available to the party shows that the Federal Government, using its various agencies, is bent on destroying any opposition to the ruling party as all indications show that the government is more interested in humiliating the PDP than fighting corruption.
"Finally, we state that this war on the PDP and its leaders has indeed gone too far. It has now become a mockery of democratic practice."