"Did Dasuki Seek Your Approval"? SERAP Says Ex-Pres. Jonathan Must Answer To The Ongoing Arms Procurement Scandal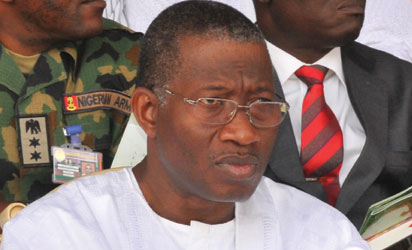 Estimated Reading Time: <1
The socio-Economic Rights and Accountability Project (SERAP) yesterday stated that former President Goodluck Jonathan has questions to answer over the $2.1 billion arms procurement deal. SERAP, in an open letter signed by its executive director, Adetokunbo Mumini and sent to the former president, asked Jonathan to explain what he knows about the lingering issue. The letter, dated January 8, reads in part:
"SERAP considers that there is enough material in the public domain to suggest that over $2 billion meant for purchase of arms to equip Nigerians soldiers fighting Boko Haram in the North-East of the country was diverted and shared among highranking government and party officials under your watch as president and Commander-in-Chief of Nigerian Armed Forces.
"SERAP and, indeed, Nigerians, reserve the right to pursue justice through appropriate national and international accountability mechanisms to ensure that everyone involved in this heinous crime is brought to justice in accordance with international standards of fairness." SERAP said that Nigerians would like to hear from the president whether the apparent diversion and sharing of the nation's commonwealth by the former NSA was expressly or implicitly authorised by the former president.
The group poses questions to Jonathan: "Did your former National Security Adviser (NSA), Col. Sambo Dasuki (rtd), seek your approval to collect from the Central Bank of Nigeria the over $2 billion meant for purchase of arms for Nigerian soldiers? "Is it then correct to suggest that the former NSA implements presidential decisions and not make them?
If so, is it also correct to suggest that the apparent diversion and sharing of the over $2 billion meant for purchase of arms was a presidentiallevel decision and that you signed off on it? "Assuming you did not directly order or authorise the apparent diversion and sharing of the over $2 billion meant to purchase arms for Nigerian soldiers, is it fair to suggest that you, at least, knew, or had reason to know, that your own former NSA was apparently involved in the heinous crime of corruption to wit: the diversion and sharing of over $2 billion meant to purchase arms for Nigerian soldiers; and did not take all necessary and reasonable measures in your power as Commander-in- Chief and President to prevent the alleged diversion and sharing of our commonwealth, as explained above? "Would you accept that the apparent diversion and sharing of the over $2 billion was largely due to your failure to ensure:
(1) that system was in place to ensure a transparent and accountable spending of budget for military operations in strict accordance with the standards of international law including the UN Convention against Corruption;
(2) that any such system was operating in a continuous and effective manner; and
(3) that violations of the standards were punished when detected by that system?"