Boko Haram Earlier Today Attacked Army Chiefs Home Town, Abducts Unaccounted Number Of Girls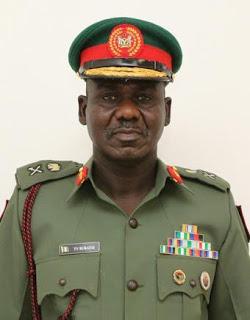 Estimated Reading Time: <1
At least seven persons were killed and an unspecified number of teenage girls abducted in Bam Village, about seven kilometers away from Buratai village, the home town of Chief of Army Staff (COAS), Lt. Gen. Tukur Yusuf Buratai, on Sunday during an attack by the terrorist group, Boko Haram.
A resident of the area who fled to Miringa town for safety, Abubakar Ali, told newsmen on Sunday evening that the insurgents invaded his village about 3:30am and set ablaze the whole village.
He alleged that they killed four persons and later left with some of the yet to be married
teenage girls.
He lamented that the insurgents operated in the village till about 5am and even had the audacity to "separate teenage girls from married women, set ablaze the whole village and left with the choice girls unchallenged."
He said it was unfortunate that "these hoodlums always attacked our villages unchallenged. I am calling on General Buratai to do something about this for the soldiers seem to be doing little to checkmate them here.
"We have been telling the soldiers that the Boko Haram are in some villages around here but they only go to Mangari a few kilometres away from Buratai and shoot in the air and come back. It seems the soldiers are afraid to confront them."