Security Agents Reportedly Begin Manhunt For Ex-military Chiefs, Arms Dealers Indicted In Phoney Deals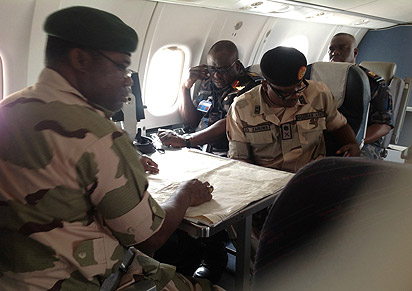 Estimated Reading Time: <1
Security agents have launched a manhunt for former military and security chiefs suspected to have duped the country of billions in phoney arms deals.
Former National Security Adviser (NSA) Col. Sambo Dasuki has been named in the deals. He said yesterday that he was ready to defend his action in court after President Muhammadu Buhari ordered his arrest.
Also to be arrested are former Chiefs of Defence Staff and five service chiefs indicted by a panel which examined arms purchases from 2007 to 2015.
The panel has summoned 30 arms contractors, The Nation learnt last night. All the suspects may have their movement restricted to the country, pending further interrogation and arraignment in court.
Col. Dasuki has got a court's nod to travel abroad for medical treatment, but the Federal Government has refused to let him go. According to a source, the former NSA is a "security risk" and the nation cannot afford to let him "slip away".
All the suspects implicated in the arms deals have been placed under surveillance. But none was yet to be arrested as at the time of filing this report. A top source said: "Those accused of mismanaging N644billion include some former Chiefs of Defence Staff, about five service chiefs and some security chiefs.
"They have all been placed under surveillance and some of them may be arrested any moment from now pending their arraignment in court.
"Their names have not been released to avoid any acts that may jeopardise attempts to bring them to justice.
"Immediately they are arrested, we will release their list to the public."
There were indications last night that the Presidency may have foreclosed Col. Dasuki's overseas trip.
A source said: "With the revelations from the panel probing arms deals, Dasuki is a security threat. No sane government will allow him to travel abroad.
"So, the ex-NSA cannot step out of Nigeria, until he is brought to trial on these allegations. But no one is molesting him at all; he is still under house arrest."
Asked why Dasuki was still under house arrest, the source said he would have been picked up but we don't want to treat his case as an isolated one.
"Do not forget that he has a subsisting case in court. The Attorney-General of the Federation and Minister of Justice will present these new facts against Dasuki to the court and the security implications of allowing him to travel abroad," the source said, pleading not to be named because of what he described as the sensitivity of the matter.
Before the President raised the panel, there had been some petitions before the Office of the National Security Adviser(NSA), the Department of State Services(DSS) and Defence Intelligence Agency(DIA) among others on shady deals in procurement process in the Armed Forces.
A source said: "We are having this challenge because military purchases are exempted by law from undergoing procurement process.
"I think the problem at hand may assist the nation to learn from the models of other countries."