Emir Sanusi Explains Why He Lost AfDB Job Says Diezani Is Lying About Missing Money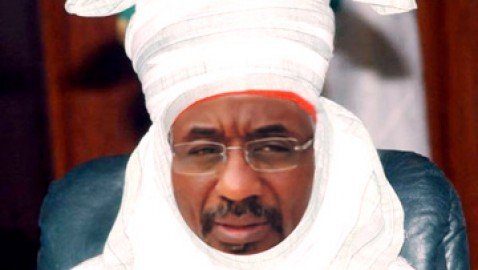 Estimated Reading Time: <1
The Emir of Kano, Muhammadu Sanusi II has called his former colleague, the former Oil minister, Diezani Madueke a liar over her claims that no money was missing under her watch.
He also claims she is lying about the reason he did not get the job at the African Development Bank.
Diezani in an exclusive interview with Dele Momodu's Boss Newspaper said,
"If there is one issue I must pursue in this world, it is the biggest lie of this money. How can $20 billion disappear just like that? Where did it disappear to? Is it possible that such an amount would not be traceable?
"This is more painful coming from someone I considered a good friend who should appreciate the gravity of such an allegation. I challenge anyone to come forward with facts showing that I stole government or public money. I've never stolen Nigeria's money."
Sanusi said in a statement released yesterday, "It is not something that is hidden that anybody who is seeking that job must get the support of his country. Knowing fully that I went to the President with my intention and before I made the exposure of the $20bn oil deal, Jonathan clearly indicated his support for me.
He even directed Hassan Tukur, his Principal Private Secretary to write to African heads of state. So, what is Diezani saying? One can now see that she is lying."
"My suspension came a week after I made the disclosure of the missing monies, precisely on February 20, 2014. As at that time, I was the only candidate from Nigeria gunning for the AfDB job, but you know one cannot have it when he is suspended.
My passports were all confiscated. Jonathan in trying to punish me denied me of the job and replaced me with Akin Adesina, who is my personal friend.
The question that remains for Diezani to answer is: Was there $6bn said to have been remitted to NPDC which they denied? As for that denial, who is holding that money? What happened to the inflated N6 per litre kerosene subsidy?"
"Where is the money said to be paid to that effect? All these questions formed the basis upon which I was suspended and denied the AfDB job.
"Certainly, there is nothing personal. It is our nation's money we are talking about. One cannot take away the treasury and expect to go scot-free. He must answer the basic questions. Everyone is aware that I was punished by former President Jonathan for exposing the missing $20bn.
The punishment after suspending me from the CBN and taking away my passports was also blocking me from becoming the AfDB President. But Allah in his mercy today has given me something much more better than that.