Buhari Says Former President Jonathan Wrecked The Nigerian Economy For "Personal Gain"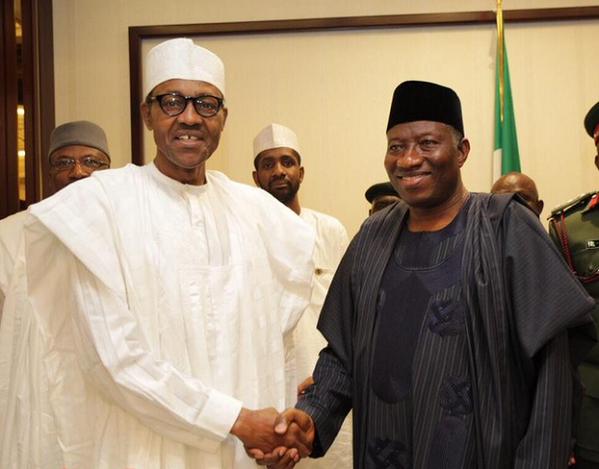 Estimated Reading Time: <1
President Muhammadu Buhari yesterday knocked the immediate past President Goodluck Jonathan-led Peoples Democratic Party (PDP) administration for wrecking the economy for "personal gain".
He repudiated the party's claim that he is "demarketing" Nigeria with his public speeches on corruption by former public officials, saying he won't lie to cover up the truth.
"Nigerians will hear only the truth on the economy and the state of the nation from President Muhammadu Buhari", the Presidency said last night.
It alleged that the Jonathan-led PDP government lied to Nigerians on the state of the economy which was found to be in dire straits contrary to that government's claims.
"President Buhari will remain true to the virtues of honesty, integrity, sincerity, incorruptibility and plain-speaking which endeared him to Nigerians and made them prefer his leadership to that of a lying and deceptive PDP administration.
"The President will not, in the guise of 'marketing' the country, refrain from telling Nigerians and the world, the emerging truths about the abject state in which years of plundering by a PDP leadership has left the Nigerian treasury and economy.
"President Buhari will not in the name of 'marketing' or 'attracting' investors, follow in the footsteps of the ousted PDP Administration and its discredited officials who shamelessly lied to Nigerians and the world about the buoyancy and vibrancy of an economy they had bled dry for personal gain, when it was very obvious to the discerning, that the Nigerian economy was headed for serious trouble," Presidential Spokesman Femi Adesina, said in a statement.
The Presidency condemned PDP spokesman Olisa Metuh's statement that the President has been "demarketing Nigeria "with his public stance on corruption.
"We restate for the umpteenth time to Mr. Metuh and his ilk that their attempts to distract President Buhari from the job he has been elected to do will fail," the Presidency said, adding: "It is most unfortunate that instead of showing some remorsefulness for the harm done to the nation by his party, and giving genuine support for President Buhari's efforts to salvage and revamp the national economy, Mr. Metuh persisted in a vain attempt to remain relevant on the national stage by unjustly denigrating the President who continued to strive with all his might to alleviate and reverse the harm done to the nation by PDP misrule and corruption."
Mr. Metuh's antics, the statement said, were futile.