Buhari Says He's On A Mission To Stop Corrupt Individuals From Occupying Public Offices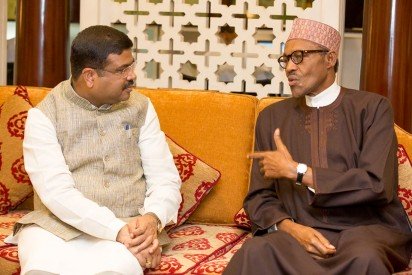 Estimated Reading Time: <1
President Muhammadu Buhari has said that his main target for fighting corruption was to stop corrupt individuals from seeking to occupy public offices for selfish gains.
According to him, the prosecution of alleged criminals would serve as a deterrent to others, stating that he was committed to curbing corruption, plugging all loopholes in public sector accounting and deploying available resources for the good of all Nigerians.
The president spoke, Wednesday, during a meeting with members of the Nigerian community in New Delhi, India where he is attending the 3rd Summit of the India and African Nations.
President Buhari also prioritized the recovery of looted funds, saying he was conscious of the devastating consequences of the illegal diversion of public resources meant for national development into private bank accounts.
He said: "The anti-corruption campaign will be on-going for many years. We are committed to the enthronement of good governance that plugs the loopholes in public sector accounting, and the use of scarce resources for public good.
"We are determined to demonstrate exemplary leadership that will make our citizens to change their ways in a manner that lays a solid foundation for reconstruction and development.
"I am confident that our approach to fighting corruption through value re-orientation, improved internal processes and systems and the rule of law, as well as enhancing the capacity of the various anti-corruption agencies and institutions will prove more enduring in addressing this evil.
"In the meantime, we will continue to prosecute those who have been indicted for corrupt practices and ensure that stolen funds are recovered, to serve as deterrence to others who nurse the ambition of seeking public office solely for illegal personal gain".