"Corruption Is Not Nigeria's Primary Problem" – Prof. Ben Nwabueze Tells Buhari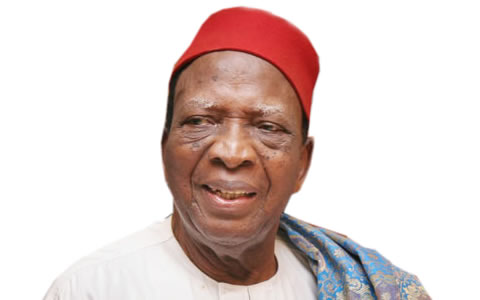 Estimated Reading Time: <1
Pictured Image Credit: Punch Newspaper 
Foremost constitutional lawyer, Prof. Ben Nwabueze, has said that corruption is not Nigeria's primary problem.
He called on President Muhammadu Buhari to equally address other critical problems, particularly what they described as the 'Nigerian question' – the dysfunctional federal system practised in the country.
In an interview with newsmen during a gathering of Igbo Leaders in Enugu, Nwabueze, however, observed that the current preoccupation with the anti-corruption campaign had unfortunately relegated other serious national challenges to the background.
The Senior Advocate of Nigeria said, "Everybody is thinking that all that we need is to fight corruption; it is important, but it is not our primary problem.
"There are other issues that are even more important than corruption.
"We have the question of illiteracy, the question of poverty, the question of security.
"As important as the war against corruption is, we are of the view that there are other issues that overshadow corruption.
"Another issue is what we call the national question."
Shedding further light on the 'national question', Nwabueze said Nigeria was not a nation.
He said the Federal Government must take necessary steps to ensure that Nigeria becomes a nation, rather than a mere state.
He said, "The national question means the problem of evolving Nigeria into a nation.
"Nigeria is not a nation; it is a state.
"We all want to belong to that state but we deceive ourselves always by thinking and painting the picture that we are already a nation; we are not."