SGF, Babachir Lawal Alludes Appointment To Influence Of Tinubu And Akande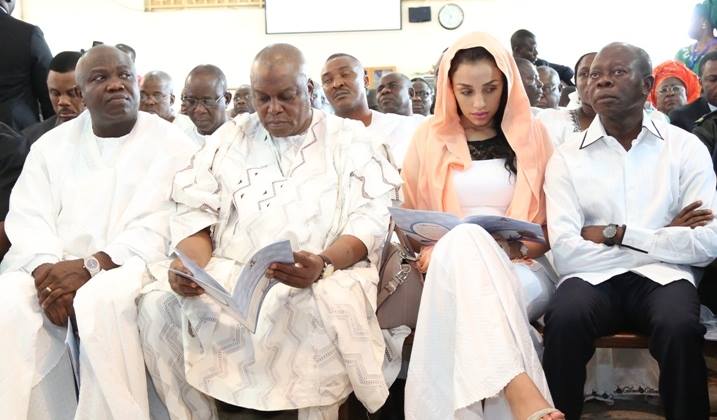 Estimated Reading Time: <1
By Chris Nomjov
Newly appointed Secretary to the Government of the Federation, SGF, Babachir David Lawal, attributed his appointment to the influence of the National Leader of the All Progressives Congress, APC, Asiwaju Bola Tinubu, and Chief Bisi Akande. He said both men made it possible for him to emerge as a member of President Muhammadu Buhari's cabinet.
Lawal paid glowing tributes to both party chieftains, while speaking at a thanksgiving service in his honour in Abuja, yesterday. The SGF said both leaders of the APC were pivotal in his emergence as SGF, stressing that goodwill can be earned irrespective of ethnic, tribal or religious affiliations.
"My wife has not met Bisi Akande, she has not met Asiwaju, she has not met Buhari, yet we have been with him. But, it is fundamentally important for Nigerians to know that goodness is not restricted to tribe, religion or political party", he said.
"I am Secretary to the Government today, because those people that I mentioned were the very first to put the idea in the mind of the President. They were the ones that made it possible.
"But these friends know me, they know that I am not ambitious. I just want to eat today and tomorrow I will find my way. By the grace of God, I am today the Secretary to the Government of the Federation, something I did not look for, people say it is hard work and dedication. It is not true, it is just by the grace of God that the President will just pick you and say this is your position".
"I never looked for it and I never expected it. I started getting hints to this job just about two to three days to it, and I thought it was a very big joke. Then I used to call it Timipre Silva project or Baba Akande project, when they mentioned that they heard story about it".
"Last year, if I was told that I will have an occasion where one single governor will attend, I will not believe it, but here we are today, it is the grace of God that has put all of us where we are today. Governors should know that".
On his part, National Leader of the APC, Tinubu described the SGF's appointment as a step in the right direction, expressing optimism that he would bring his wealth of experience to bear in the office.
Tinubu, represented at the event by Lagos State governor, Mr Akinwunmi Ambode, said, "If you are looking for a man who is diligent in his work with a keen eye for details and correct process, there is none better than Babachir Lawal".
"He knows this nation and understands its complexities, from the intricacies of our federal bureaucracy to the diversity of our social fabric to the, multiple dimensions of our political dynamics.
"He is a man well-tailored to fit his position in today's Nigeria where we find ourselves in a situation not meant for the faint hearted. A situation that requires grit, guts and wisdom. These attributes, Lawal has in abundance".