Akinwunmi Ambode Spends Most Of His Time Representing Bola Tinubu At Public Functions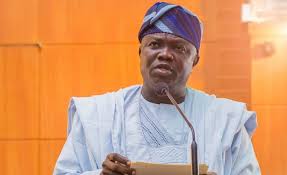 by Dia Zamani
Since assumption of office by the Lagos State Governor, Akinwumi Ambode, Lagosians have had sad tales to tell, from agonising traffic gridlock to contending with men of the underworld in Nigeria's commercial nerve centre.
It has been observed however that the state governor rather spends most of his time attending to the needs of his political benefactor and National Leader of the All Progressives Congress (APC), Asiwaju Bola Ahmed Tinubu .
On Saturday Ambode who again had to represent Tinubu at a public function, described the appointment of Engr. Babachir David Lawal as Secretary to the Government of the Federation (SGF), as a step in the right direction, expressing optimism that he would bring his wealth of experience to bear in the office.
In June 2015,  Asiwaju Bola Tinubu excited about his party's nationwide victory at the recently concluded elections, again had to send his aide Ambode to represent him at the African Young Entrepreneurs Empowerment Nigeria, AYEEN 2015 programme.
At the event, Tinubu who was obviously speaking through Ambode said, "If I didn't believe in the bold initiative, I wouldn't have lent myself to the unprecedented merger of the political parties that became the APC. We wouldn't have challenged the incumbent party controlling the central government, People's Democratic Party, PDP.
"There is no incumbent that has ever lost an election in this country. At the beginning of that journey, we were laughed at, we weren't given a chance. We were told that we have embarked on an exercise in futility. Yet we believed in the justness of our call. The criticism didn't deter us but encouraged us.
It is therefore important that the Lagos state governor takes over the governance of the state he swore to protect the lives and properties of the people rather than continually engaging in "Owambe" functions speaking for Tinubu who has a spokesperson.