Police Quiz Alleged 'Architects' Of Multiple Abuja Blasts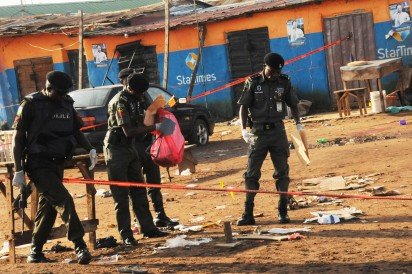 Estimated Reading Time: <1
By Chris Nomjov
The Nigerian Police scored a major point in its anti-terrorism campaign, as it announced Monday, that perpetrators of the multiple blasts that rocked Abuja, on October 2; had been arrested.
Disclosing this to newsmen in Abuja, the Inspector General of Police, Solomon Arase announced the arrest of two prime suspects and masterminds behind the multiple bomb blasts that took place in Kuje and Nyanya Satellite towns of the Federal Capital Territory (FCT), Abuja; leaving 20 people dead and several injured.
Arase made the disclosure at a meeting with senior police officers in Abuja
 on Tuesday at a press briefing, gave the names of the suspects as Abdulazeez Muhazab and Isiaka Salihu aged 27 and 25 respectively. Both men are indigenes of Okene, Kogi State
The boss police further disclosed that the arrest of the suspects foiled another attempt by the suspected terrorists to undertake further attacks in the FCT.
Items recovered from the suspects included 12 already prepared and primed Home Made Explosives concealed in 12 soft drink cans, 28 pieces of electronic detonators and large quantity of Improvised Explosive Device-making materials.
The Police Chief further stated that the suspects are been seriously grilled with a view to determining the scope of the network of the terrorists and whatever else they may be planning. 
The suspects would soon be arraigned in court.