UNILAG Students Protest Over Bedbugs And Mosquitoes Infested Hostels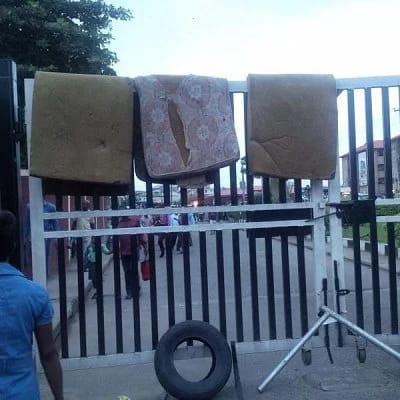 Estimated Reading Time: <1
University of Lagos Students today shut the university's two exit gates, to protest what they described as the invasion of bedbugs and mosquitoes in their hostels.
Students of the University in Akoka, Yaba, Lagos, say the continuous presence of bedbugs and mosquitoes in their hostels affects their health condition and urged authorities to fumigate their environment for better habitation.  [Photo Credit: Vanguard Newspapers]
A 400-level Chemical Engineering student, who spoke with Naij.com, slammed the institution's management for refusing to come to the aide of the crying students, as he believes that things should be done in an orderly manner and not by incessant protests over trivial issues.
He said: "the students had started this protest since about 3:00am this morning and it lasted for two hours before they went to bed, trying to kill the bedbugs and mosquitoes in their hostels.
"This is quite unfair to us, because some of these students pay as much as eight thousand naira for bed space, and this is what they get?
"The last time they did fumigation was last year and the beds were not replaced with new ones since the Eko Festival in 2012. I believe the school management should come to the aide of the students, because we cannot keep protesting over very minute or trivial issues.
"How can we have bedbugs in our hostels? This is really saddening."