In A Triumphant Coup, Military Takes Over Burkina Faso's Transitional Gov't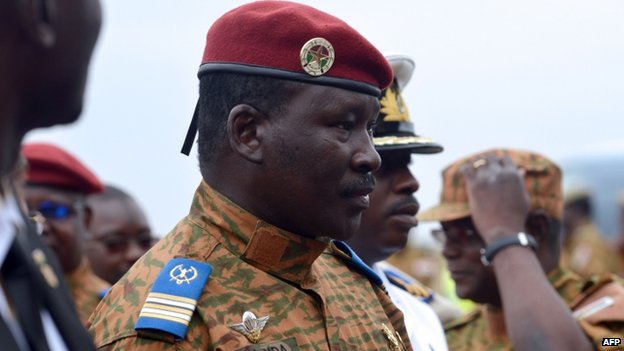 The military in Burkina Faso has announced the dissolution of the country's transitional government, a day after presidential guards arrested the interim president and prime minister.
President Michel Kafando and Prime Minister Yacouba Zida were detained by soldiers who stormed an afternoon Cabinet meeting, plunging the poor West African country into chaos and uncertainty.
The coup comes days before the country's first election since last year's ouster of long-serving ruler, Blaise Compaore.
Mr. Compoare was deposed in a popular uprising in 2014.
The interim leaders were due to hand power to a new government after elections on October 11. Their arrest on Wednesday triggered fresh street protests outside the presidential palace. Soldiers responded with gunfire and forced radio and television stations to stop broadcasting.
An unnamed military official said on Thursday that the interim president, Mr. Kafando, had been stripped of his functions and the government dissolved.
Moumina Cheriff Sy, the speaker of the transitional parliament, called the coup "a blow to the republic and its institutions".
"I call on all patriots to gather to defend the motherland," he said.
The United Nations Secretary General Ban Ki-moon expressed outrage over the coup, calling for the immediate release of the leaders.