Dasuki Charged With illegal Arms Possession, Granted Bail, Passports Seized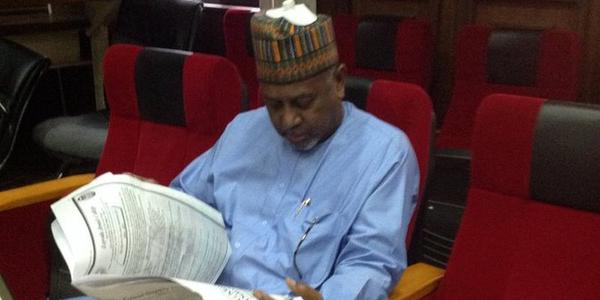 Estimated Reading Time: <1
The Federal High Court sitting in Abuja, this morning, admitted the former National Security Adviser to President Goodluck Jonathan, Col. Sambo Dasuki, to bail on self recognizance.
Nigerian prosecutors on Tuesday slapped a charge of unlawful possession of arms against the former national security adviser of ex-president Goodluck Jonathan.
Sambo Dasuki was arraigned on a "one-count charge of being in possession of firearms without licence," Prosecutor Mohammed Diri told the federal high court in Abuja.
He said investigators found several weapons in Dasuki's residence during a raid by security agents after his sacking by newly-elected President Mohammadu Buhari in July.
Some of the weapons included five Tavor rifles, 20 magazines, five packets of rifle service kits, small magazine with 16 rounds of 9mm ammunition and bigger magazine with 23 live rounds of 9mm ammunition.
Other items recovered during the search were a bullet-proof Range Rover jeep with one magazine with 16 rounds of ammunition and another Range Rover with 36 rounds of live ammunition. The court has confiscated the travelling documents of Col. Dasuki.
Dasuki pleaded not guilty to the charge and was granted bail after judge Adeniyi Ademola ordered that his international passport be deposited with the court.
The case was then adjourned to October 26 for start of trial.
Meanwhile, the Federal High Court him on self-recognition, after he pleaded not guilty.
However, the judge directed Dasuki to submit his passport to the Deputy Chief Registrar of the court.
Dasuki, 60, served as national security adviser from June 2012 until his sacking in July.