Just In: Scores Killed As Fire Engulf Tanker Affecting 18 Seater Peace Mass Transit Bus In Edo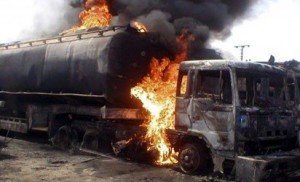 So many travelers have been killed in a fuel tanker explosion at, Ewu, Edo State along the Auchi – Benin road at about 3:30pm on Friday.
It was gathered that the explosion engulfed other surrounding cars including an 18 seat Peace Mass transit Bus.
The numbers of casualties are yet to be ascertained.
A traveler who spoke to the Nigerian Times disclosed that there is serious confusion at the scene as the road has been blocked following the accident.
The source was unsure of the cause of the accident but said it might have been as a result of failed break as the tanker somersaulted before exploding.
It was also gathered that the Peace Mass Transit Bus was also dismembered along with the passengers.
As at the time of this report, several calls have being made to fire fighters but they are yet to arrive the scene.