Obasanjo Blasts Late Umaru Yar'adua For Cancelling The Sale Of Kaduna & Port Harcourt Refineries To Dangote, Slams Jonathan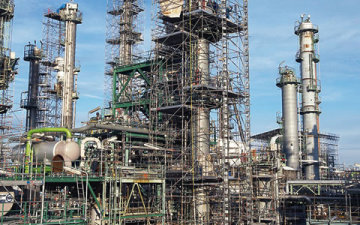 Former President, Olusegun Obasanjo has said that late President Yar'Adua was wrong for cancelling the sale of the Kaduna and Port Harcourt refineries to a Dangote-led consortium by his administration .
In the second part of an interview granted a private television station, Channels TV, Obasanjo accused Yar'Adua of sacrificing public interest on the altar of pressure by some people by cancelling the said contract.
Obasanjo, while justifying some of the claims he made in his controversial three-volume autobiography, My Watch, spoke about his efforts to get people to invest in the oil sector and how the country eventually secured buyers for two of its four refineries.
He said, "Eventually Aliko Dangote led a group that paid $750m for the privatisation of two of the refineries – 51 per cent privatisation – and my successor (Yar'Adua) came (in), he turned it down. In fact, he paid back the money because they (investors) had paid the money.
"And I went to him; I said 'look, do you know…? And he said well, he did it because of pressure. I said 'pressure?', so to you what matters is pressure, not what is in the best interest of Nigerians. I said, but you know it will not work. Then I said in 10 years, if you continue, you would have spent two times the amount that these people had paid and it still would not work. And that is what happened.
"Today those two refineries, you can never make them work. And if we are going to sell them, we would be lucky to get $250m out of them because they have become a huge scrap. Now, why shouldn't I explain that (in my book)?"
The former President denied leaving out parts that painted him in a bad light in the book, said he cared less what critics said about him or his book.
Obasanjo again took a swipe at Yar'Adua's successor, ex-President Goodluck Jonathan, for rehabilitating the railway system with locomotive engines.
He said, "Where I made (a) mistake, which I know is (a) mistake, I own up. But the point is this, in government we need to have all the facts that led to a person making a particular decision before your criticism can be right. Take the railway for instance, for what reason should anybody in his right senses in Nigeria of today believe that rehabilitating the railway system, which was completed in 1903 to carry three million tonnes of goods, is what we need today?
"There is no earthly reason by which a rehabilitated railway system of Nigeria today can serve our purpose, there is no way."
Obasanjo said that before he left office as President, his administration had concluded the design of a modern rail system to cost $8.3bn that would make a trip of about 120 kilometres in 45 minutes.
He said, "Part of the design criteria is 150km per hour. You will leave Lagos and in 45 minutes you will be in Ibadan, and you don't understand that if we are going to achieve Vision 20 2020, we will need a first class land, water and air transportation.
"Your land transportation can only be railway and road and if you don't think this way and don't think one generation ahead, how can you make progress? Will you say that a man who wants to rehabilitate the Nigerian railway system of 1903 is one generation ahead (in his thinking)?"