Femi Gbajabiamila Compensated With House Leadership, Declares Reps Crisis Over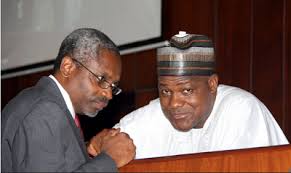 Estimated Reading Time: <1
The anointed candidate of the All Progressives Congress, for the Speaker-ship of the Federal House of Representatives, Femi Gbajabiamila, was on Tuesday, July 28, compensated and it seems there is finally peace in the assembly..
Reacting to his selection as House Leader, Gbajabiamila said: "What you saw in the last 49 days was actually democracy in action."
In a short interview with newsmen, Gbajabiamila promised Nigerians a more united and virile House of Representatives, saying that the heat over the selection of the principal officers were over.
"The crisis is over, there are no more groups. We are all members of one family, expect a new vibrant House you used to know. We will defend the interest of every Nigerian," he said.
"That's what politics is all about: everybody trying to outwit everybody for the greater good of the country. I'm glad that everything has panned out the way it did.
"You will now see the House you knew in the last four years back in action, working for the people, working for the nation. I'm sure we'll have a lot more to say tomorrow (today)."
Addressing newsmen later, chairman, House ad hoc committee on media and publicity, Honourable Zani Zoro, said the outcome of what transpired on the floor of the House was in the interest of democracy and spirit of "give and take."
According to Zoro, "what transpired today is the triumph of the internal democracy of the House of Representatives and this triumph is also anchored on four factors.
"It is anchored on patriotism, constitutionalism, reason and rationality. This is what guided the steps taken by the entire House of Representatives laid by its leadership and all the contending groups that were parties to the various negotiations.
"I can assure you that apart from the triumph of dialogue, members of the eighth House of Representatives have shown that we are matured politicians. Politics is about give and take and that is what has happened."