APC National Chairman, Oyegun, Denies Receiving Bribe From Bukola Saraki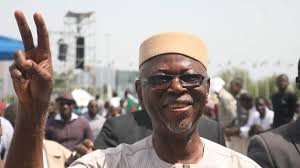 The National Chairman of All Progressives Congress (APC), Chief John Odigie-Oyegun, has denied taking bribe to support the lawmakers who became principal officers of the 8th National Assembly.
Odigie-Oyegun made the denial when the leadership of the South-East and South-South South-East/South-South Professionals paid him a courtesy visit in Abuja on Thursday.
He said the allegation that he obtained financial inducements to support Sen. Bukola Saraki's bid to emerge as Senate President was false.
The chairman expressed shock over the allegation that he pitted members of the party from the north against those from the south.
He expressed delight that the group visited at a time when he was undergoing a serious challenge over the National Assembly leadership crisis.
Odigie-Oyegun said: "There is nothing they have not said about me but when you ask what has the man done, one of their reports said the present executive cannot win us elections in 20?19.
"Good Lord! You've not even finished 2015, you're talking about 2019.
"The one that annoys me is the attempt to rubbish 75 solid years of a character that I've put together. They said ?I take gratification, gratification to what purpose?
"The only people who can say that are the people who don't know my background or history. I was just over 30 when I started joining teams that were buying aircraft from Holland and Seattle in the U. S.
"That could not corrupt me. I was on the board of the Railways, NPA and the rest of them. If all these did not make me corrupt, how can I, at 76, take money, money from who to do what?"
Outlining the various sacrifices he made for the country, the chairman said as a one-time chief executive of the Federal Housing Authority, he did not award any land to himself or to any member of his family.
"I could have acquired acres of land and the compensation government was paying would have covered that but out of love for my country and democracy, resistance to the continuation of military rule, I was on exile for four years.
"During that time, my economic base was totally obliterated, by the time I came back, I was barely carrying a deadly bone.
"Obasanjo is a close friend, throughout his eight years tenure, I didn't enter Aso Rock to curry favour, that is the kind of person I am.
"When they say I'm taking money from a senator, to do what? I am not a senator, I cannot vote, I cannot by being chairman pronounce him Senate President or Senate Leader. So, what is he giving me money for?
"How many people know me personally? It is annoying, it is dirty, it is crude?, it is unbecoming and it is only people who are totally devoid of conscience at any level of humanity that can do things of that nature," he fumed.
NAN.