"It Was When The Banks Refused To Give Me More Loans That I Started Owing Salaries" – Aregbesola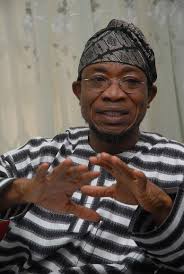 Osun State Governor Ogbeni Rauf Aregbesola has said despite raising the internally generated revenues (IGR) from N900 m annually to N3.6 bn, he was yet to pay workers' salary because the banks were not forthcoming on further loans.
He was speaking in Abuja at the annual Ramadan Lecture of the Al-Habibiyyah Islamic Society of Nigeria themed "Ramadan: Changing Positively".
He said he has borrowed N24 billion so far to pay salaries and that it was when the banks refused to give more loans that he was stuck and started owing workers.
He however said that contrary to reports, local government and other categories of workers were being paid and not owed except workers under the state's civil service commission.
"How can anyone accuse me of mismanaging the resources of the state (Osun State) when my campaign promises was based on populace welfare and infrastructural development?
"By Gods Grace I have delivered on most of the promises. Initially it was thought that only Osun owed workers salary, but it can be seen that it is a national issue and that 23 of the 36 states of the federation owed their workers.
"I am not shifting blame and I bear responsibility, but it was a responsibility Nigeria state forced on me. I am still laboring physically and spiritually to pay the workers' salary. The challenge I face today was not my making, it is a national problem. I borrowed N24 billion to pay salary, but when the bank say I cannot borrow again, there is nothing I can do in the face of dwindling revenue accruing to the state," Aregbesola said.
He added that the state's monthly wage bill stood at N3.6 billion monthly and that there is no way the IGR which stood at N3.6 bn from N900 m annually when he became governor could meet up.
He however assured that he was working tirelessly to ensure that those being owed are paid as he promised the people of the state.