2015 General Election Is The Most Rigged In The History Of Nigeria Says Asari Dokubo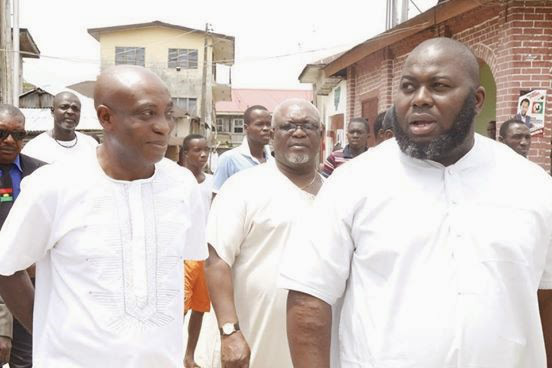 Estimated Reading Time: <1
Ex-militant Alhaji Asari Dokubo, has described the recent 2015 general elections as the most rigged election Nigeria had ever experienced, saying they were not free and fair.
Alhaji Dokubo, who made his stand known during a chat with the media in Owerri, yesterday, also explained that he was in Imo to be part of the Biafra Day celebration with his Biafra brothers and sisters.
"The figures were self evident. The figures clearly showed the manipulations. The elections were not free and fair. Also, the stage was set to manipulate the elections," Dokubo said.
He recalled that Boko Haram came into being after the leaders from the Norther section of the country, mostly Northern Muslims, made the statement that they would make the polity unstable, ungovernable and crisis-ridden for Dr. Goodluck Jonathan, who was duly elected by the people of Nigeria.
He recalled that the National Assembly rejected e-voting and that when the card readers were brought in, some of them shouted to the roof tops that the gadget was unknown to the Constitution and Electoral Laws of Nigeria.
"Our brother, Goodluck Jonathan, refused to listen to us. To him, the life of any Nigerian was not worth his election or ambition. For us, that was an abdication of his duties as President because we were also involved in the elections and we wanted free and fair elections," Dokubo said.
The IYC leader said that on the day of the election, Dr. Jonathan was roundly humiliated, stressing that four card readers were brought in as he stood waiting, adding that all of them rejected him.
Dokubo said: "That was the time Dr. Jonathan ought to have taken action and stopped the fraud that INEC called an election. He did not do it.
''It was in the middle of a crucial match that the referee, Professor Attahiru Jega, who is from the same place with Muhammadu Buhari, issued a statement that if card readers cannot confirm your finger prints, then you can go on and vote."
The IYC leader was irked that election results were cooked up and announced, adding that in a place like Kano, there was no cancellation or void vote.
"General Buhari was given 1.9 million votes in Kano. Somewhere in Imo State, as educated as Imo is, about 71,000 votes were voided.
''But Kano, there was no cancellation, no voided vote! And mysteriously, the Resident Electoral Commissioner and his family died a few days later in a mysterious fire," Dokubo recalled.
He said Buhari had a stolen mandate, adding that the mandate was not freely given to him by the people.
"A stolen mandate cannot last for a very long time. The owners of the mandate, whether Goodluck Jonathan likes it or not, will one day demand for that mandate.
''I have nothing personal against General Buhari but things must be done the right way. Truth must be said. General Buhari today is now a tiger.
"The votes were manipulated. He took over power because Jonathan did not want people to die. Goodluck was ready to make sacrifice and he made sacrifice."