NDLEA Has Told Senator-elect Buruji Kashamu To Be Set For Extradition Proceedings & Not Blame Anyone For His Predicaments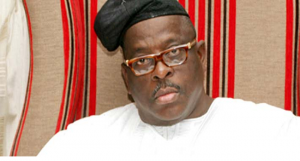 Estimated Reading Time: <1
by Deji Abiodun
The National Drug Law Enforcement Agency has called on businessman and politician, Mr. Buruji Kashamu, to concentrate on the facts of his suit to stop his extradition to the US rather than dragging former President Olusegun Obasanjo and former Deputy National Chairman of the Peoples Democratic Party, Chief Olabode George, into his personal problem.
This was contained in a statement by the NDLEA spokesman, Mitchell Ofoyeju, on Sunday.
Ofoyeju reiterated that a formal request for the extradition of Kashamu, a Senator-elect in Ogun State on the platform of the PDP, had been received from the Embassy of the United States of America.
The statement read in part, "According to official report, Kashamu has been on the wanted list of both the US Drug Enforcement Administration and Immigration and Customs Enforcement of the Department of Homeland Security.
"Kashamu was indicted in the Northern District of Illinois, United States, on charges brought against him by ICE.
"According to the United States court documents, Kashamu, in his days as the leader of a prolific heroin trafficking ring based in Chicago, Illinois, was known as 'God,' 'Daddy,' and 'Kasmal'.
"He is wanted to stand trial on charges of conspiracy and importation of controlled substances, namely heroin, into the United States dating back to 1994."
Ofoyeju added that Kashamu had taken multiple pre-emptive actions to thwart US extradition efforts such as making fanciful claims that "his is a case of mistaken identity, and that his deceased brother was responsible for the crimes he is being sought after in the United States."