Vincent Ogbulafor, Who Said PDP Will Rule Nigeria For 60 Years, Visits APC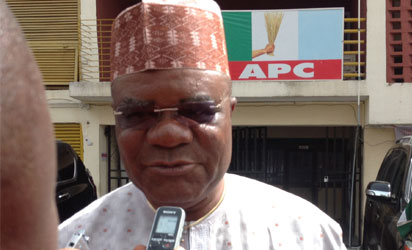 Estimated Reading Time: <1
Gale of defections hitting the outgoing ruling Peoples Democratic Party, PDP assumed a serious dimension yesterday with its former National Chairman, Prince Vincent Ogbulafor visiting the national secretariat of the All Progressives Congress, APC in Abuja.
Vanguard Newspaper reports that Ogbulafor who arrived the secretariat at about 2:35pm went into a closed door meeting with the APC national chairman, Chief John Oyegun.
The meeting lasted for about 40 minutes.
It will be recalled that as sitting PDP national chairman, Ogbulafor scored a first when he boasted in 2008 that PDP would rule Nigeria for 60 years.
The phrase later became maxim for the party members even in the last presidential election campaign.
But it was not too long when things fell apart between the Abia State born politician and President Goodluck Jonathan consequent upon a statement credited to him before 2011 general elections that power must remain in the north before 2015.
The statement was seen as an affront to Jonathan who though was serving out the term of his former boss,late President Umaru Musa Yar'Adua also haboured ambition for 2011.
Ogbulafor was later forced to resign and later faced the court for several years over some charges of financial embezzlement. He was only freed on October 2, 2014 by the court that eventually quashed the case.
Since then Ogbulafor who had also been National Secretary of PDP, Minister in the government of ex-President Olusegun Obasanjo had remained silent, almost politically idle and out of news until yesterday when he visited APC leadership.
Coming out of the APC office, Ogbulafor was accosted by Journalists who enquired the reason for his mission at the opposition camp.
Responding, Ogbulafor said he was at the secretariat to congratulate APC national chairman for "a job well done". The brief interview between Ogbulafor and Journalists ran thus:
We are surprised you are here sir?
I just came back into town yesterday and I came to congratulate the national chairman of APC for a job well done.
Don't you think some of your party members in PDP, might read meaning into this?
How can they feel offended? I am still in PDP.
Are you considering joining APC?
Not yet. Even if I will, not yet.
How do you feel about General Buhari's victory at the poll?
I am very happy.
But we recall that you were the one who said PDP will rule Nigeria for 60 years?
Yes I said so. But when they dismantled governors forum, what do you expect?
But you are coming to associate with APC?
I am a Nigerian.
Will it not be treated as anti-party activity by your party?
I am a Nigerian. APC has produced the president of this country and I have to congratulate him for job well done.
Are you still in PDP?
Why not?
How would you describe the election in Abia, your home state?
When they conclude it you will get the result.
How soon will you be joining APC?
I have been National Chairman, National Secretary and Minister. I will remain in PDP until it becomes necessary to make a change.
Meanwhile, every effort to get a word from APC National Chair, Oyegun who also emerged shortly after Ogbulafor exited the arena yielded no result as he jumped into his waiting Jeep, beaming smiles, clearly dodged questions from newsmen.
But the APC Deputy National Chairman, South, Engr. Segun Oni offered to speak to Journalists with regards to Ogbulafor's visit to the secretariat. Also, the interaction ran thus:
We just saw the former National Chairman of the PDP around and we learnt that he had fruitful discussion with APC leadership. I saw him, but I think it is a private visit he came for. Don't forget, the National Chairman is his friend and some of us are also his friends.
Does it have anything to do with him joining the APC?
I don't think it has anything to do with him coming to the APC.
Won't you be happy if he joins the APC?
Of course, we will be very happy if he comes to the APC, but that is not the purpose of his visit.
But his presence here will create room for speculations?
He came to visit his friend and to congratulate us. That is the way politics should be played. Even if he were still the National Chairman of PDP and he comes here to congratulate our national chairman and meet some of us his friends, that will be good politics. I am looking forward to our friend, the National Chairman of PDP visiting us here to say congratulations. As politicians, we must salvage this process called politics. We must rescue it from charlatans. We must give it a colour of decency, we must give it a colour of maturity. I will expect that even if he does not have time to visit us now, he should send us a letter.