Buhari, Obiageli K. Ezekwesili [@obyezeks], Chimamanda & Shekau Announced By @TIME As World's 100 Most Influential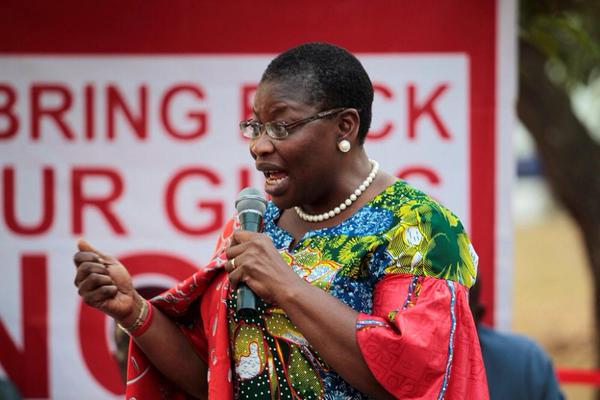 Estimated Reading Time: <1
by Deji Abiodun
Four Nigerians have been announced by @TIME as world's 100 Most Influential People, they are;Obiageli K. Ezekwesili for her role advocating the release of abducted Chibok School girls, Muhammadu Buhari for his attempts at Presiding over Nigeria and finally getting the votes in 2015 and to Ms Adiche, the award winning novelist. Finally the leader of the terrorists group Abubakar Shekau also made the list.
Here's a summary how the magazine wrote about the powerful Nigerians…
Like northern Uganda, where I live, northern Nigeria is very isolated. For many years, the women who were abducted from our region remained invisible. So although I have not met Obiageli Ezekwesili, I know the #BringBackOurGirls campaign that she championed is very important. It would have taken a long time to raise awareness about the girls taken by Boko Haram without her using her platform as a former Minister of Education.
We need to remember that these girls are undergoing psychological and maybe physical torture. So I love that the campaign says, "Bring back our girls," and not "Bring back my child." Everybody is in unison with the parents and the relatives. Everyone is feeling their pain. Everyone will be ready to embrace the girls and offer them care and compassion if they are rescued or manage to escape.
It has been a year, and the girls haven't been rescued, but she has made a difference by speaking about it. Not just speaking but shouting. I know some people will say she is too loudmouthed. The loud mouth is needed. People hear it.
According to TIME, Muhammadu Buhari Wins Nigeria's Presidency in Stunning Upset
Winning may be just the easy part in a country plagued by insurgency, corruption and economic malaise
In a radical reversal of fortune, presidential candidate Muhammadu Buhari has proved that the fourth run is the charm when it comes to being elected President of Nigeria. In an election plagued by technical mishaps, Buhari has sealed victory over incumbent Goodluck Jonathan by little more than 2 million votes in the tightest race the country has seen since the end of military rule in 1999.
Jonathan called Buhari to concede victory on Tuesday evening and if the transition goes smoothly — not a given considering Nigeria's dark legacy of postelection violence — the onetime military dictator, 72, will be making history as the first opposition candidate to unseat an incumbent since the country gained independence from Britain in 1960.
These hard-won successes will be nothing compared with what is in store for the President-elect, however, from the falling price of oil, economic stagnation, entrenched corruption, a radical Islamist insurgency in the north and the possible resurrection of a southern rebellion. But his biggest challenge yet may be one familiar to any presidential challenger who unexpectedly finds himself a victor in a brutal campaign for change: managing expectations.
"Nigeria is in a situation where we have to get it right, right away," says banker Henry Farotade by phone from Lagos. "We can't afford to waste time. We are hoping Buhari will do like Obama when he came in after Bush, and turn things around."
The spokesman for Buhari's All Progressives Congress party, Lai Mohammad, says that the President-to-be is more than ready for the charge. Speaking by phone from the Nigerian capital, Abuja, as the final vote tallies rolled in, Mohammad could barely contain his joy. With precision he listed the next steps, from an acceptance speech to how Buhari would deal with ethnic and religious rifts brought on by the grueling campaign. "We are ready. We are going to take Nigeria in a new direction, and we are going to start by healing old wounds. This is no time for a honeymoon, this is a time for nation building."
Buhari's success at the polls on Tuesday comes 30 years after he was knocked from his post as military head of state in a 1985 coup. A born-again democrat who has pursued the presidency in every election since 2003, Buhari campaigned on a platform of zero tolerance for corruption and a commitment to wiping out the Boko Haram insurgent group that has killed and kidnapped thousands in the past year.
But for all the international attention Boko Haram has garnered, the threat of a renewed insurgency in the oil-rich south may prove far more devastating for Nigeria's economic stability, and a far greater challenge for a Muslim from the north who represents everything that the southern insurgents fought against throughout the 1990s and early 2000s, as they sought a greater share of the country's oil wealth. A temporary truce agreement is up for renewal later this year, and it is not certain that the southern insurrectionists will be willing to work with Buhari.
"There has been a lot of muttering in the south that they will not tolerate a Buhari victory, that they would suspend oil supplies and would kick out northern-owned businesses," says Ryan Cummings, chief Africa analyst for the Johannesburg-based Red24 risk consultancy. "So the core issue facing Buhari is that he could have an insurgency in the northeast, and in the south as well." For Elizabeth Donnelly, assistant head of the Africa program at the London-based policy institute Chatham House, the first step for Buhari will have to be "a real charm offensive" in the south, to ensure that southerners know he will be protecting their interests as much as those of his traditional northern constituents.
Nigeria can expect in Buhari a radically different leader from Jonathan, says Donnelly. Given his military background, Buhari is likely to maintain the regional alliance against Boko Haram and keep up a strong military campaign. But he may have troubles on economic issues, where he has little demonstrable experience. "What it really comes down to is whether or not Buhari can devolve economic decisionmaking to the right people."
For Farotade, the banker in Lagos, what matters most is that Nigerians have proved that they can actually kick a sitting President out of power. "It's an ecstatic feeling. It means we are gradually coming of age as a real democracy. This is the accountability we have been waiting for." Though he has high hopes for Buhari, he is confident that if Buhari fails, there will be repercussions. "If Buhari doesn't deliver, all we have to do is wait till 2019, and we will vote him out."
Described by the Magazine as "Conjurer of character"
It's the rare novelist who in the space of a year finds her words sampled by Beyoncé, optioned by Lupita Nyong'o and honored with the National Book Critics Circle Award for fiction. But the Nigerian writer Chimamanda Ngozi Adichie is just that sort of novelist.
A MacArthur "genius" grant recipient, Adichie writes of the complex aftermath of Nigeria's colonial history and her nation's rise to prominence in an era when immigration to the West no longer means a one-way ticket. With her viral TEDxEuston talk, "We Should All Be Feminists," she found her voice as cultural critic. (You can hear it rising midway through Beyoncé's woman-power anthem "Flawless.") She sets her love stories amid civil war (Half of a Yellow Sun) and against a backdrop of racism and migration (Americanah). But her greatest power is as a creator of characters who struggle profoundly to understand their place in the world.
Abubakar Shekau – Scourge of Africa (by General Carter Ham (U.S. Army, retired)
Most Americans do not yet recognize his name, but the citizens of Nigeria, Africa's most populous country, know Abubakar Shekau all too well: he is the most violent killer their country has ever seen. Shekau took over the terrorist organization Boko Haram in 2009 after the group had been weakened by Nigerian government forces.
Shekau, who is believed to be in his 30s, began to stage increasingly daring kidnapping and killing raids on schools, churches and mosques thought by Boko Haram to be violating their interpretation of Islam. The taking of over 200 schoolgirls in April 2014 brought Boko Haram into the international spotlight.
By most accounts, Boko Haram has killed more than 10,000 people and is spreading into neighboring countries. Shekau's latest action may finally summon a U.S. response: he has publicly aligned his group with ISIS, the terrorist group that holds territory in Syria and Iraq and has expanded its reach into Yemen and Libya.