After The Victory Of The APC At The Polls, Dangote Dumps Jonathan For Buhari's Men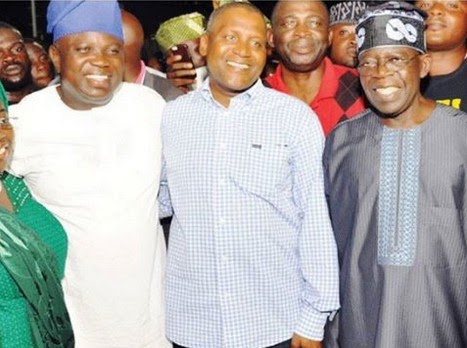 Estimated Reading Time: <1
by Chukwu Obi
Since the victory of the All Progressives Congress, APC, candidate, General Muhammadu Buhari at the polls.
Businessman Aliko Dangote and then ally to Nigeria's President Goodluck Jonathan, has now pitched his tents with the power brokers of the new administration, dumping the First Family.
Dangote widely reported to have evaded tax (with government cover) throughout the Goodluck Jonathan's regime has been seen pledging his loyalty, romancing the strong men behind Muhammadu Buhari's Victory "in a bid to continue enjoying government patronage", an insider tells NewsWireNGR.
Businessmen are obviously never loyal, Dangote according to Sources at the Presidential Villa Abuja was not only an influential and respected ally of President Goodluc Jonathan, 'he had upper hands to all Jonathan's economic policies favouring his business model".
"There is no business meeting that Aliko wasn't made to chair or to recommend what is best for the nation, which in turn was best for his own business" another source who doesn't want his name mentioned tells NewsWireNGR.
"Did you notice how Jonathan calls his name more than 10 times in every business gathering world over? Even here in Nigeria, during his media chats as a Journalist, is there any other person the President acknowledged as he did for Aliko"? our source continued.
"In the business community, you get leverage when you have the eyes and the ears of the President and thats the secret behind Aliko's growth throughout the Jonathan's regime, business policies always favour him".a senior business analyst opined.
An insider in the Presidential Villa said, "Point is, Dangote betrayed Jonathan long before the elections, part of the reasons Jonathan fell out with some members of the business community, is because he (Aliko) was basically the C.E.O. of the Nigerian business and decided what gets to who because he had the ears of the President."
The relationship between Africa's richest man got to a point that the Conference of Nigerian Political Parties (CNPP), in a statement described as anti-people, NewsWireNGR recalls.
The CNPP accused the Jonathan led government of promoting an economic model against the Nigerian People only adopted and accepted by Aliko Dangote who was described by the group be loved by Jonathan.
The statement read, "Jonathan is only in love with Dangote, Adenuga, Elemelu".
Aliko Dangote, Africa's richest man, made his fortune is cement, sugar and flour.
In April 2014, months before oil prices plunged, he announced $9 billion in financing from a consortium of local and international lenders to construct a private oil refinery and fertilizer and petrochemical complex in the country.
In August 2014 he said he would invest $1 billion in commercial rice farming and modern rice mills, a policy business analyst insists was made possible by the Goodluck Jonathan's regime patronage to Dangote.