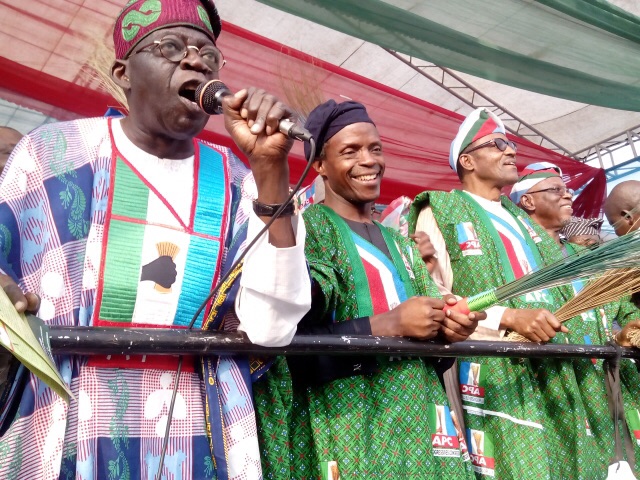 by Tahir Sherriff
"..i have never owned a property outside Nigeria, I never had a foreign account since leaving my studies in the USA, i have around 150 cattle because I'm never comfortable without cows.."
These were some of the declarations made by General Muhammadu Buhari as he stood before a monolith audience on the night of the APC presidential primaries. Few people doubted him, fewer doubted that this would change their hearts against him. To however make this pledge official, General Buhari reaffirmed to the Nigerian public that he would declare his assets.
Declaring his assets alone, may not be much to discuss about, many have always accepted the generals life as that of a simplicity only rivalled by the pot smoking president of Uruguay Jose Mujica. The questions that underlie any declaration of assets by the incoming president is whether he would also mandate all those who will work with him in the coming administration to do the same. If he does, would such obligations be required of his political godfather Asiwaju Bola Ahmed Tinubu.
In a document stating what would be done under his administration in the first 100 in office General Buhari stated that:
"…i pledge to publicly declare my assets and liabilities, encourage all my appointees to publicity declare their assets and liabilities as a pre-condition for appointment…"
Will the Lion of Bourdillon be mandated to declare
Like several other states in South West Nigeria, Lagos state always had a landlord. In the past, the state government did the job of owning and governing the state. Recently however it's new landlord is undeniably Asiwaju Bola Ahmed Tinubu. The political titan, more popularly known the Lion of Bourdillon has been purchasing and owning several state assets over the last decade.
Private assets allegedly owned by Tinubu
On number 4 Oyinkan Abayomi Drive Ikoyi stands a 5-bedroom detached house on one acre of land once belonging to the Lagos state government, a property originally in use as the Lagos State Governor's guest house since 1979. The certificate of occupancy of the property valued at N450 million was allegedly signed and released to Tinubu by Fashola in 2007.
On 26 Bourdillon road Ikoyi, is a property initially documented as a Gueat House belonging to Oando Plc. Valued at over N600 million this property has followed a series of paper trails including an arrangement under the Pension Bill which eventually landed it in Tinubu's hand in 2007. The same fate lay ahead for the annex of the Lagos State Guest House in Asokoro, Abuja; a property, which was bought by the Lagos State Government in 2006 for roughly N450 million.
But these assets purchased from the state government are nothing compared to the several other assets allegedly owned by the Lion of Bourdillon. A thousand hectares of land valued at about N75billion in Lakowe, near Abijo at Ibeju-Lekki Local Government is to be developed into a golf course to be partially owned by Tinubu and Fashola.
On Lekki road, at Ajah junction lies a 250-hectare land valued at around N35billion. The plot was initially meant to be used as a General Hospital for the people of Eti-Osa Local Government, but is now under construction as the Royal Garden Housing Estate and under the management of Trojan Estate Limited. A company said to be owned by Deji and Wale Tinubu.
Other such properties include the Atlantic Beachfront, a 157 hectares property worth over N10billion, a shopping mall in Alausa Ikeja on a land previously belonging to the state government, the multi-billion Naira Oriental Hotel and the extension of multi-storey car park right beside it, a 3.8-hectare of land of Lagos State Fisheries office in VI (beside the Institute of Oceanography) valued at N3billion, a fishery landing jetty at Badore (where the Ilubirin fishermen were to be relocated) valued at N500million, the entire Ogudu foreshore scheme initially earmarked for a low-cost housing scheme valued at N5billion, the Ilubinrin housing estate (which used to house Lagos state civil servants and judges up till 2007) valued at N2.5billion, and the former Julius Berger yard at Oko Orisan, Epe valued at N450million are all alleged to be assets purchased in joint venture agreements with several business tycoons.
Public expectation
Following the gigantic support that was leveraged for General Buhari culminating in his victory, several political actors are anticipating a cabinet restructuring that could see them holding key government positions. If Tinubu is set to participate in this government, will he be mandated to declare his assets? and can whatever is declared by accepted as true and fair?
Tinubu was described in a recent publication by the Financial Times as Nigeria's Machiavelli, after the recent activities he inspired led to a tidal victory over the Peoples Democratic Party (PDP). A party which had held office since the return of Nigeria to democracy in 1999.
As asset declaration mandate could see the beginning of fresh disagreement, even before agreements and alliances become solid as the new government takes office.