Ambode's Rally: Oba Of Lagos Allegedly Orders Idumota Market To Be Shut Down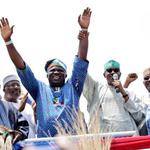 by Deji Abiodun
If the reports from Lagos are correct, Obviously the Oba of Lagos wasn't joking when he threatened igbos in Lagos over the candidacy of Akinwumi Ambode of the All Progressives Congress, APC.
Reports this morning from Lagos reveals that hundreds of shop owners, especially Igbos, were yesterday forced to shut their shops at the Idumota Market, Lagos Island and marketers ordered to attend a rally in honour of Akinwunmi Ambode
The Lagos monarch who had last week threatened the Igbos, is alleged to have ordered the closure of the market, the business hub for majority of the Igbos in Lagos who sell at Idumota market ..
One of the traders said was quoted to have said: "We arrived Idumota market as early as 8 am. Shortly after, some thugs came, ordering us to shut our shops on the orders of Oba Akiolu.
Campaigning for Ambode, the President-elect, Muhammadu Buhari, on Tuesday described Lagos State as too important for the All Progressives Congress (APC) to lose to the opposition.
Speaking at a rally in Orile area of the state, Buhari said, "Defy all elements, whatever it may be, and vote for APC from top to bottom," he said.
Don't attempt to be on the wrong side of the centre because we are now the centre. Tell your neighbours, your relatives and even the opposition party to please bury the hatchet and fall in line and vote for APC," he said.