"Don't Attempt To Be On The Wrong Side Of The Centre" Buhari Tells Lagosians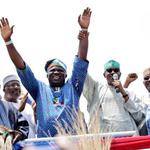 by Deji Abiodun
The President-elect, Muhammadu Buhari, on Tuesday described Lagos State as too important for the All Progressives Congress (APC) to lose to the opposition.
Speaking at a rally in Orile area of the state, Buhari urged residents of the state to vote en masse for the party's governorship candidate in Lagos State, Akinwunmi Ambode as they go to the polls on Saturday.
"Defy all elements, whatever it may be, and vote for APC from top to bottom," he said. Don't attempt to be on the wrong side of the centre because we are now the centre. Tell your neighbours, your relatives and even the opposition party to please bury the hatchet and fall in line and vote for APC," he said.
He told the people that they stood to benefit a lot if they vote for the APC. "Gov. Babatunde Fashola has told me how much the state has been spending to maintain Federal Government infrastructure, including roads, buildings and other institutions.
"I urge Ambode, who will be the next governor of the state, to harass me sufficiently to honour my undertaking," he said.
Buhari commended Bola Tinubu, the APC National Leader, for doing his best to mobilize revenue to sustain development in the state, and Fashola, for his hard work and commitment to the state.
In his address, Tinubu also urged Lagos residents to vote wisely in the governorship and House of Assembly elections and not to waste their votes for the opposition.
"As you vote on Saturday, pray that God will not let you waste your vote; a vote for progress is a vote for development," he said.
"Vote for the man that will give you solid development, happiness, hope and great progress in Lagos and in Nigeria. We have a President-elect from the party now, we have gotten victory and we will continue with the progress that Nigeria deserves," Tinubu said.
Fashola also urged residents to vote Ambode saying that the state must not remain in opposition to the centre. "We are 5.8 million on the voters register and I will want three million votes for Ambode. Put ethnic sentiments aside, there will be no discrimination. As your governor, I have defended you every time you have been intimidated without discrimination.
Fashola informed the people that the president-elect had promised to compensate the state for all the federal government assets it had maintained. "That sign of compensation is already here and I know you won't want to miss it," he said.