APC Chieftain, Pat Utomi Says Oba Akiolu's Threats Against Igbos Were Jokes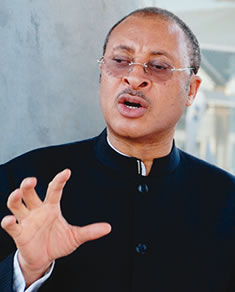 by Zenith Oduah
Renowned political economist, Chieftain of the All Progressives Congress and entrepreneur Pat Utomi says Oba of Lagos, Rilwan Akiolu's death threats against Igbo leaders were only jokes.
The Oba of Lagos had warned that if Igbos fail to vote for Akiwumi Ambode of the APC, they will all be drowned in the Lagos Lagoon, a statement widely condemned.
Utomi wrote "The arena of politics slippery slope. The remarks by the Oba of Lagos are inappropriate but all who know him know he talks so in jest."
He continued, "Have known Oba Akiolu for 20yrs. He says worse to me every time we see but I have no doubt he is fond of me. How do you tell outsiders so".
He concluded, "Typical of Oba as he sees me: Pat go return our land where you built that Lagos Business School. I respond; hold Asiwaju who signed C of O".
Read the quotes by the Partisan Oba to Igbo Leaders below..
"On Saturday, if anyone of you goes against Ambode, who I picked, that is your end. If it does not happen within seven days, just know that I am a bastard and it is not my father who gave birth to me.
"By the grace of God, I am the owner of Lagos for the time being. This is an undivid­ed chair. The palace belongs to the dead and those coming in the future. On Saturday, if anyone of you, I swear in the name of God, goes against my wish that Ambode will be the next governor of Lagos State, the person is going to die in­side this water.
"For the Igbo and others in Lagos, they should go where the Oba of Lagos heads to. When they were coming to the state, they did not come with all their houses. But now, they have properties in the state. So they must do my bidding. And that is the bidding of the ances­tors of Lagos and God.
"I am not ready to beg you. Nobody knew how I picked Ambode. Jimi is my blood relation and I told him that he could never be governor in Lagos for now. The future belongs to God. I am not beg­ging anybody, but what you people cannot do in Onitsha, Aba or anywhere you cannot do it here."